'She was Amazing'
On Friday 24th March,
I landed at Dulles airport and went to the Ground Transportation Desk to meet my booked and paid for transit to downtown. Unfortunately the company refused to accept the confirmation on my phone, despite confirmation from the company I booked with that I could. I needed to email it or print it out. That should have been easy, using the airport wifi but on this occasion it wasn't working.
"After approaching the passenger care desk I was introduced to one of your team, Sue Martin who from that point on was an absolute credit to your team. She went above and beyond to help, talking to the desk, even letting my try her PC. None worked so in the end she let me use her personal cell phone to email the confirmation to her which she then printed off.
"That day she was amazing – this wouldn't have got resolved without her and would have been hugely problematic for us.
As I have said, she is an absolute credit to your organisation and a great ambassador for her country as one of the first point of contacts for many visitors to the US. Please pass on my regards and see she is recognised as you see appropriate."
4/6/17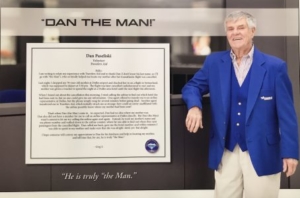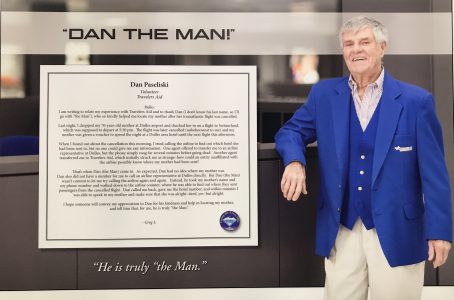 Gem award winner, Dan Pasielski has been volunteering since 2010 and Travelers Aid has received countless letters of thanks for Dan's work.
'Angels on Earth'
"I am writing to you with tears in my eyes to brag to you about the MOST amazing man ever, Patrick Kinlan.
"My best friend here in Houston lost her dad in Dallas last night. She was in Lexington, VA visiting her son at W&L. She left Roanoke today around noon, and her flight was so delayed she was literally minutes away from missing her connection to DFW.
"As she was sitting on the shuttle, I was calling trying to get someone to hold the airplane door so she could make her connection. Thankfully, I reached Patrick at the information desk. That sweet and kind man called the gate and connected me with a supervisor who held the door so she could get on that flight.
"Isn't that an amazingly wonderful and special thing to do?! I believe people like Patrick Kinlan are angels on Earth, and I hope he is rewarded and praised of this OUTSTANDING efforts today. I am honored and privileged to write this to you as he is one of a kind!"
3/31/17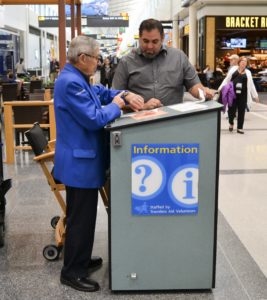 Otto, volunteer since 2002, keeps passengers on time in concourse B