Passengers Tell Us Their Stories
If you would like to recognize one of our volunteers please email us at volunteer@mwaa.com and/or submit a compliment here!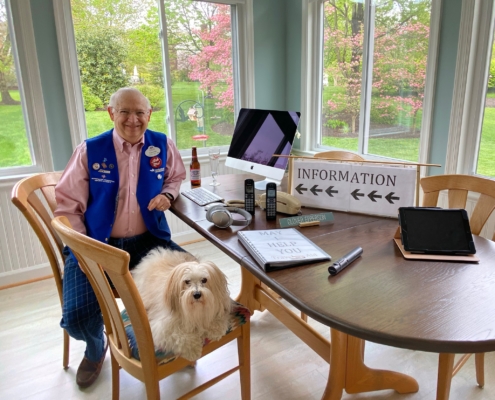 On May 21st, 2020 amid unusual operations due to COVID-19, Volunteer Glover assisted a passenger find one of the open concessions and walked them step by step to food, and back to their gate, all remotely!
"My flight was delayed and no food places were open but one of your employees, Glover, guided me step by step on how to get to another terminal as fast as possible to get food and get back to my gate before my gate boarding."
Volunteer Christine assisted a gentlemen remotely in June 2020. With COVID-19 restrictions and complications ever-changing it can be difficult for passengers to navigate the changing requirements. Luckily Christine was able to assist this caller:
"I had the most pleasant and productive interaction with your volunteer Christine this afternoon. I had called her to check about quarantine requirements if any at Dulles Airport, and she promptly and unambiguously gave me the information I needed. She was also kind and thoughtful enough to offer me suggestions on food (since many hotels don't have dine-in facilities), airport shuttles and personal protection requirements while in the airport. She was also totally patient with my questions. We are absolutely grateful to her and your organization for providing us with such assistance. We wish all in your team the best of health and safety in these challenging times. Many thanks."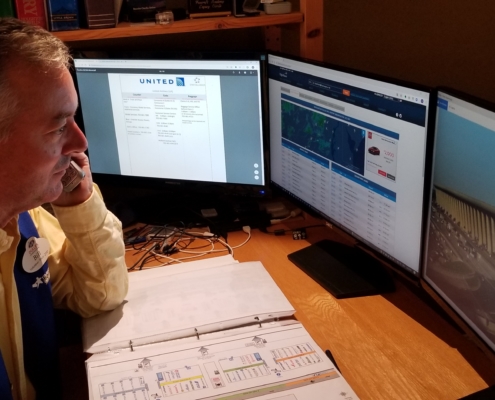 On May 12th, 2020, volunteer Bill went above and beyond to assist a frequent traveler.
"Between what I've learned from my frequent travel, and the vast amount of information available on the internet, I've typically been able to find the information I've needed without much incident. However, today, after having difficulty finding the possible changes to operating hours of the United counter, I was connected to Travelers Aid and was called back with the times. But what I am particularly appreciative of was that I was also provided an answer to an important question I did not ask, but the volunteer, Bill, investigated on my behalf–namely, whether I could check-in within the 24 hour period before my flight, but on the day prior. Contrary to what I believed, UA is not allowing this and I am glad to know this too."
On Friday 24th March,
I landed at Dulles airport and went to the Ground Transportation Desk to meet my booked and paid for transit to downtown. Unfortunately the company refused to accept the confirmation on my phone, despite confirmation from the company I booked with that I could. I needed to email it or print it out. That should have been easy, using the airport wifi but on this occasion it wasn't working.
"After approaching the passenger care desk I was introduced to one of your team, Sue Martin who from that point on was an absolute credit to your team. She went above and beyond to help, talking to the desk, even letting my try her PC. None worked so in the end she let me use her personal cell phone to email the confirmation to her which she then printed off.
"That day she was amazing – this wouldn't have got resolved without her and would have been hugely problematic for us.
As I have said, she is an absolute credit to your organisation and a great ambassador for her country as one of the first point of contacts for many visitors to the US. Please pass on my regards and see she is recognized as you see appropriate."
"I am writing to you with tears in my eyes to brag to you about the MOST amazing man ever, Patrick Kinlan.
"My best friend here in Houston lost her dad in Dallas last night. She was in Lexington, VA visiting her son at W&L. She left Roanoke today around noon, and her flight was so delayed she was literally minutes away from missing her connection to DFW.
"As she was sitting on the shuttle, I was calling trying to get someone to hold the airplane door so she could make her connection. Thankfully, I reached Patrick at the information desk. That sweet and kind man called the gate and connected me with a supervisor who held the door so she could get on that flight.
"Isn't that an amazingly wonderful and special thing to do?! I believe people like Patrick Kinlan are angels on Earth, and I hope he is rewarded and praised of this OUTSTANDING efforts today. I am honored and privileged to write this to you as he is one of a kind!"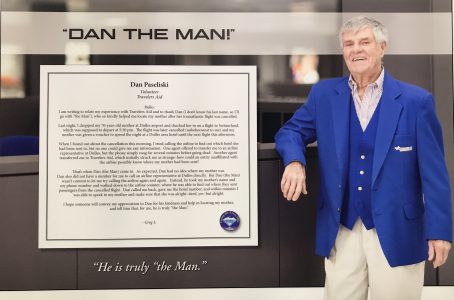 Gem award winner, Dan Pasielski has been volunteering since 2010 and Travelers Aid has received countless letters of thanks for Dan's work.
Volunteer Kathleen answered a call from our remote assistance line in August, 2020.
The caller was waiting for their brother coming in from Addis Ababa. The flight came in at 8 according to the caller and it was now 11:45. I told him it sometimes takes longer than expected for someone to go through Customs. We discussed some variables and I told him we could unfortunately not have someone go back to check. He said he thought calling information meant he could get needed information. I explained briefly about Travelers Aid, who we are, and what we do. He thought it was very nice that we volunteered and he said he knew we were doing what we could. I chatted with him for a while, mostly to calm him and take his mind off his worry. As we continued to talk, he excitedly said, "He's here! I see him!" I told him I was happy for him and wished him a good time with his brother. He thanked me and said, "Maybe someday I will become a volunteer."
I feel sometimes our questions are difficult and complicated, other times we fill in a knowledge gap such as where are the restrooms or how do I get to my hotel, But sometimes we are just meant to be listeners with open hearts. And a happy ending is something we can all use.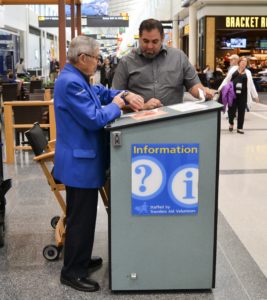 Otto, volunteer since 2002, keeps passengers on time in concourse B