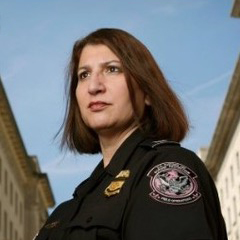 Lisa Caselli
Officer and Program Manager
U.S. Customs and Border Protection
Lisa Caselli is an officer with U.S. Customs and Border Protection (CBP) and program manager for the Blue Lightning Initiative (BLI), a national public awareness campaign to combat human trafficking. BLI — led by CBP, the Department of Homeland Security (DHS), and the Department of Transportation — trains airport and airline personnel to identify potential traffickers and human trafficking victims, and to report their suspicions to federal law enforcement.
Officer Caselli represents CBP on national travel and tourism issues. She oversees the White House Travel Support Team and travels with White House staff and press corps on presidential international trips. She was involved in the DHS response to the London train bombings and Hurricane Katrina and also is a nationally recognized subject matter expert on immigration law.
Lisa is a graduate of St. John's University and John Jay Criminal College of Criminal Justice and holds a Master's Degree in Criminal Justice.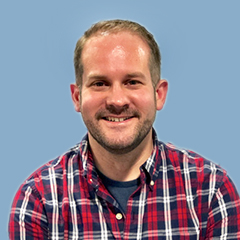 Scott Elmore
VICE PRESIDENT OF MARKETING AND COMMUNICATIONS
Airports Council International–North America (ACI-NA)
Scott Elmore joined the Airports Council International-North America (ACI-NA) in May 2014 as vice president of communications and marketing. In this role, he is responsible for executing public relations efforts to advance legislative priorities and promote ACI-NA initiatives.
Prior to joining ACI-NA, Elmore was senior director of communications and marketing for the American Apparel & Footwear Association (AAFA), where he was responsible for developing and executing the association's media relations and marketing efforts.
Elmore has also served in the Office of the United States Trade Representative (USTR) as a spokesman for Ambassador Susan C. Schwab on international trade and foreign policy issues.
Elmore is on the Board of Directors for Travelers Aid International and has led community outreach efforts with local businesses and organizations, including the Greater Orlando Aviation Authority.
Elmore earned his Master's degree in Mass Communication from the University of Central Florida and his Bachelor's degree in American Studies from Mount Vernon Nazarene University.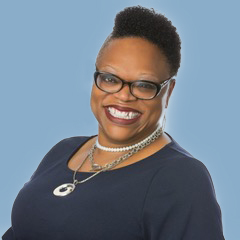 DesJean Jones
Executive Director, Certified Professional Coach
DesJean Jones is an experienced executive director with a demonstrated history of working in the non-profit organization management industry. She is skilled in administration, management, social media, training, and advertising. She is a strong business development professional with a Master of Science (M.S.) degree focused in organizational behavior and coaching from the University of Texas at Dallas, Naveen Jindal School of Management.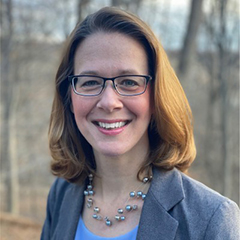 Betsy McFarland
Principal
Adisa, LLC
Betsy McFarland is a strategist and problem-solver who has forged a unique professional niche focused on empowering staff and volunteers committed to tackling challenging societal issues.
 Passionate about engaging the community, Betsy is a Certified Volunteer Administrator (CVA) and has extensive experience in engaging and growing volunteers within local and national organizations. She spent 18 years at The Humane Society of the United States, where she devoted her energy and passion to supporting and collaborating with the tens of thousands of animal shelters and rescues working to save homeless pets. Betsy led the growth and transformation of one of the organization's largest programs as vice president of companion animals, winning accolades for developing a series of pioneering programs.
 Betsy leads Energize (www.energizevolunteers.com) and specializes in providing training, coaching and assessments in effective volunteer engagement and guiding organizations through strategy development to ensure program effectiveness at all levels. She is the author of Volunteer Management for Animal Care Organizations and has published research on staff-volunteer relationships. She worked with the University of North Carolina at Charlotte to develop a research-supported Volunteer Program Assessment model that serves nonprofit volunteer programs across the U.S. and Canada.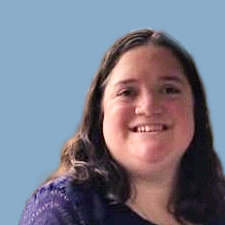 Sarah Parks
EXECUTIVE DIRECTOR
Grace at the Greenlight
Since 2015, Sarah Parks has been the executive director of Grace at the Greenlight, a New Orleans-based nonprofit organization determined to "provide care for people who need it most," the city's unhoused population. Sarah, originally from South Carolina, first felt the call to work with the homeless population of New Orleans in 2003 after spending a summer there volunteering with a local transitional housing program for homeless women and children. After receiving her bachelor's degree in Social Work from Winthrop University in Rock Hill (S.C.) in 2006, Sarah followed her call to move to New Orleans with the goal of serving those in need. In the 10 years she has lived in the city, Sarah has worked with various social service agencies, including those caring for the homeless as well as at-risk adolescents.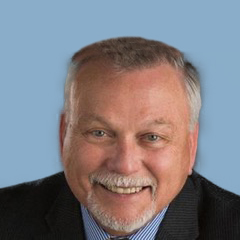 Jim Priest
PRESIDENT AND CEO
Goodwill Industries of Central Oklahoma
Jim Priest is president and CEO of Goodwill Industries of Central Oklahoma. He is a husband, dad, granddad, attorney, author, speaker, and an ordained minister in The Church of the Nazarene. Jim was a trial lawyer focusing on employment and civil rights law for more than 34 years and, prior to joining Goodwill, served as the CEO of another large nonprofit in Oklahoma City.
The author of many newspaper and magazine articles, Jim has also written three books: Family Talk, a compilation of his monthly newspaper columns, What's Your Fate, with co-author Reggie Whitten, and Changed Lives, with co-author Bob Burke. Priest currently writes a weekly blog and monthly columns for The Journal Record newspaper and Metro Family Magazine.
In his free time. Jim enjoys the outdoors, biking, and hiking. Jim and his wife Diane have been married for 43 years and have two adult children, Amanda, married to Martin Howell, and Spencer, married to Haylie Priest and is training to be a world-class granddad to his namesake grandson, James Howell. He is still owned by his dog, Jeter, who was born on the day Yankee shortstop Derek Jeter got his 3,000th career hit.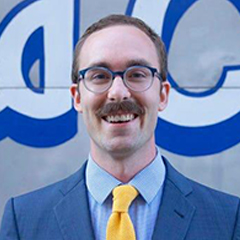 Whitley O'Connor
DIRECTOR
Homeless Alliance
Whitley O'Connor for nearly five years has been the director of social enterprise for the Homeless Alliance, an Oklahoma City-based organization that operates a multi-agency homeless resource campus providing services such as health clinics, veterans' services, budgeting, and legal assistance.
As a first-generation college student who grew up in a low-income household, O'Connor is passionate about giving others a hand up. While earning his college degree at Vanderbilt University, O'Connor in 2013 co-founded, with his now-wife Ranya Forgotson, the Curbside Chronicle, an Oklahoma City street paper partially written and completely sold by individuals experiencing homelessness. The paper provides a source of income for the vendors and a platform to educate the community about the complicated issue that is homelessness. With nearly 1 million magazines sold, Curbside has helped more than 300 individuals move into quality affordable housing.
Since starting the magazine, O'Connor has helped develop additional supportive employment programs at the Homeless Alliance, including Curbside Flowers and Sasquatch Shaved Ice. The organization has plans to launch a screen-printing company called Curbside Apparel in 2022.
O'Connor is the recipient of Forbes Magazine's prestigious "30 Under 30" award for 2022, in the Social Impact Category. He was also recognized as an Outstanding New Fundraising Professional by the Oklahoma chapter of the Association of Fundraising Professionals in November 2019.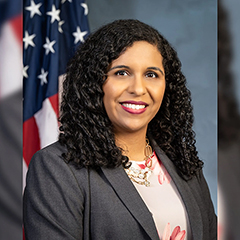 Candace Valenzuela
Regional Administrator in the Southwest (Region VI)
U.S. Department of Housing and Urban Development
Candace Valenzuela in March 2022 was named as the U.S. Department of Housing and Urban Development's regional administrator in the Southwest (Region VI). Valenzuela is based in Fort Worth and oversees HUD operations, eight field offices, and federal housing assistance throughout the five-state region of Texas, Louisiana, Arkansas, Oklahoma, and New Mexico.
Valenzuela credits HUD and public education with giving her the stability she and her family needed to thrive as she experienced food and housing insecurity throughout childhood.
After becoming the first in her family to graduate college, Valenzuela has since devoted her life to fighting for opportunities for others. She was the first Latina and first Black woman to serve on the Carrollton-Farmers Branch school board. While on the board, Valenzuela worked to ensure that faculty and staff would be able to afford to live in the district they served and that students would have a strong education to help them overcome life's challenges.
Valenzuela previously worked as a development manager for Metrocrest Services, a half-century-old nonprofit that has worked hard to fight hunger, housing insecurity, and unemployment in her community.
Additional speakers are being confirmed—bookmark this page for updates!