Fulfilling Our Mission Amid COVID-19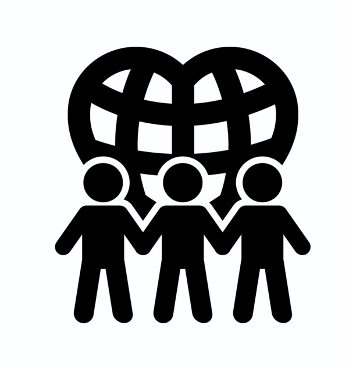 …in the Community
Meet a single mom we'll call Nicole, and her teenage daughter, Mia.
Nicole is a domestic violence survivor. After fleeing her abusive boyfriend, Nicole and her daughter lived in a car, then a shelter. The family needed safe, stable housing, and Nicole reached out to Community Link. The organization found a safe home for mom and daughter in the greater Charlotte region near Mia's school.
All was well until Nicole lost her job as a cook due to COVID-19. Community Link then provided rental subsidies, utility payments and groceries during this family's toughest moments.
Imagine living through domestic violence, then losing your job during a pandemic.
These events could break most of us, but Nicole is strong. After Community Link staff counseled her on budgeting and savings strategies, she sought out training in a new field, supply management, to expand her skills and career options. She is job hunting now.
With her joyful spirit, Nicole embodies the importance of staying hopeful and positive. Mia is doing well in school and wants to be a plastic surgeon someday.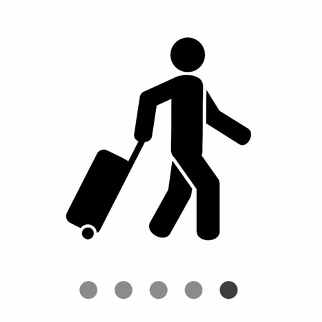 …to Assist Travelers
For two weeks, Travelers Aid at Washington Union Station worked with several District of Columbia agencies to develop a plan to return a woman home to Ohio. The woman became stranded after coming to D.C. "to be heard" about her civil right "not to wear face masks or coverings."
The woman broke contact with TA staff while they were trying to verify her circumstances, and a call was received several days later from an area hospital, again seeking help for the woman. Before more information could be collected, the woman escaped from the emergency room. Later that week, the D.C. Department of Social Services, which currently places homeless persons in an area hotel where they are tested for COVID-19 and quarantined for 14 days, called TA staff to again request intervention. It was during this time that staff was able to contact the woman's family in Ohio, who confirmed that she would be accepted back into their home. TA provided a Greyhound ticket for the woman's return following her negative COVID-19 results!


JFK Volunteer Helmut Voss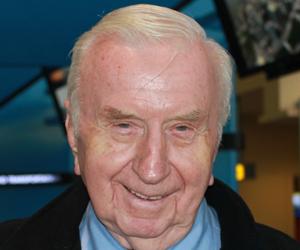 Helmut Voss, a Travelers Aid volunteer at JFK International Airport for 18 years, passed away in early November at the age of 91. Helmut, a former service representative for Pan American World Airways, always felt most comfortable at the airport amidst the crowds of international travelers in Terminal 4, where he kept "a careful watch over the crowds and his fellow volunteers." His presence will be deeply missed.
TAI Webinar Explains Why 'Why' is Key to Success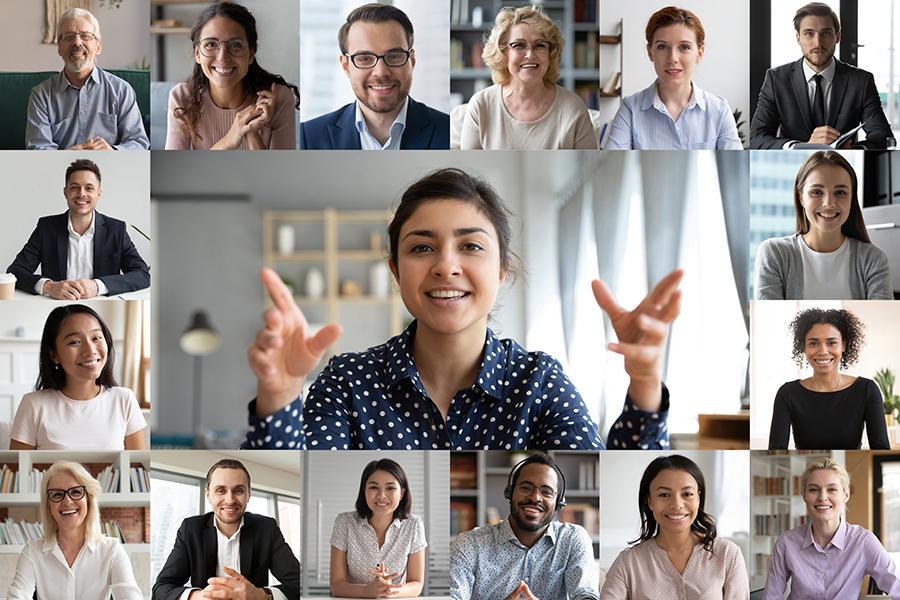 Travelers Aid International on Dec. 3 held the second in its series of Zoom webinars, addressing "Developing Your Story: Engaging Donors and Stakeholders in the Why Behind Our Work."
David Sinski, executive director, and Joe Dutra, associate director of external affairs, with Heartland Alliance/Travelers Aid Chicago presented the webinar, which focused on "The Golden Circle" – the what, how and why that sets the very successful organizations and companies apart from those that fall short.
David spoke about "The Pillars of Good Storytelling," which are relatability, tension, immersion and novelty. He called the Golden Circle "a tool that helps us use relatability and novelty" – the two most important of the four pillars – "in the most effective way."
While most entities promote their products or services initially using the "what" and the "how," David says that "it's really the 'why' that's at the center of everything" and is the approach used by mega-successful companies like Apple and Nike.
Joe emphasized the importance of "creating an emotional attachment to a concept" in seeking the support of, for example. donors and stakeholders. "When you use emotion rather than logic or data, you're actually going to be able to attract more individuals to what it is you believe in, and get them motivated."
The third in this series of webinars will be coming up next February. Details about subject, time and date will be coming soon!

Holiday Dreams Come True for FamilyAid Boston Children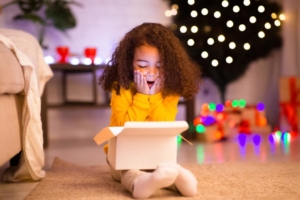 Thanks to three generous donors, 1,200 children under the care of FamilyAid Boston (FAB) are getting the gift of their dreams this holiday season.
Many holiday celebrations and toy drives throughout the city of Boston have been canceled due to COVID, including FAB's, leaving 1,000 FAB parents with few gift resources as the holiday season began.
World-renowned professional poker player Bernard Lee and The Family-to-Family Project founders Paul and Katie Buttenwieser — long-time FAB supporters — then stepped in to put children first this holiday season. Lee is providing personalized gifts for children living in FAB's multi-family shelters, and the Buttenwiesers are providing funds for other FAB parents to purchase a special gift for each of their children through Amazon. Both donations allow parents to remain socially distant and safely bring happiness into their homes.
"Our donors are empowering families, especially our single mothers, to give their children the gift of their dreams this year," says Annie Marcklinger Gordon, FAB's chief operating officer. "The Amazon and personalized gifts allow parents to be engaged in selecting presents for their children and add a bit of stability and happiness into their families' difficult housing and economic situations."
FAB Family Shelter Services Supervisor Barbara Meneide works with Charlotte, a mother of three who was grateful for the holiday help. She recently wrote to Barbara, "Thank you for the Amazon gifts! I appreciate all the support you guys have given us and we wouldn't be where we are today if it weren't for FamilyAid Boston helping us become stably housed."

Board Chair Spotlight – Randall Brater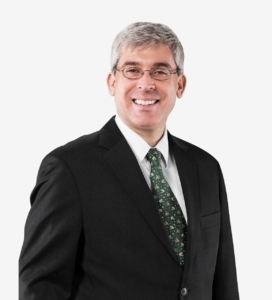 He has come a long way from his childhood roots in a small Massachusetts town known for its apple-picking.
Travelers Aid Board Chair Randall Brater is currently a partner in the Complex Litigation practice group at the Arent Fox law firm in Washington, D.C., where he has worked since 2001. In this position, he litigates matters involving, among other things, healthcare, the False Claims Act, trademarks and municipal finance.
During his high school years in Harvard, Mass., he spent one summer on an exchange program in Paraguay, and his passion for travel was ignited. He went on to major in History at Cornell University, spending a semester studying in England, then received his law degree from Vanderbilt University in Nashville.
Randy is a strong believer in volunteer and pro bono work. In addition to his service for Travelers Aid, he is also on the Board of the Legal Aid Society of the District of Columbia, D.C.'s oldest and largest civil legal services organization. Legal Aid's mission is making justice real for persons living in poverty in D.C.
In his spare time, he loves to travel (pre-pandemic), play tennis, drink and collect wine, and enjoy time with his five "amazing" nieces and nephews. He also is an avid fan of all Boston sports teams but also strongly supports the Washington Nationals MLB team.
"It is a true honor to serve as chair of the Board of Travelers Aid," Randy says. "I am inspired by the hard work and dedication of the staff, volunteers and member organizations. Now more than ever, all of their work is absolutely essential and very much appreciated by the entire TAI Board."

TA Dulles Team Honors Volunteers Curbside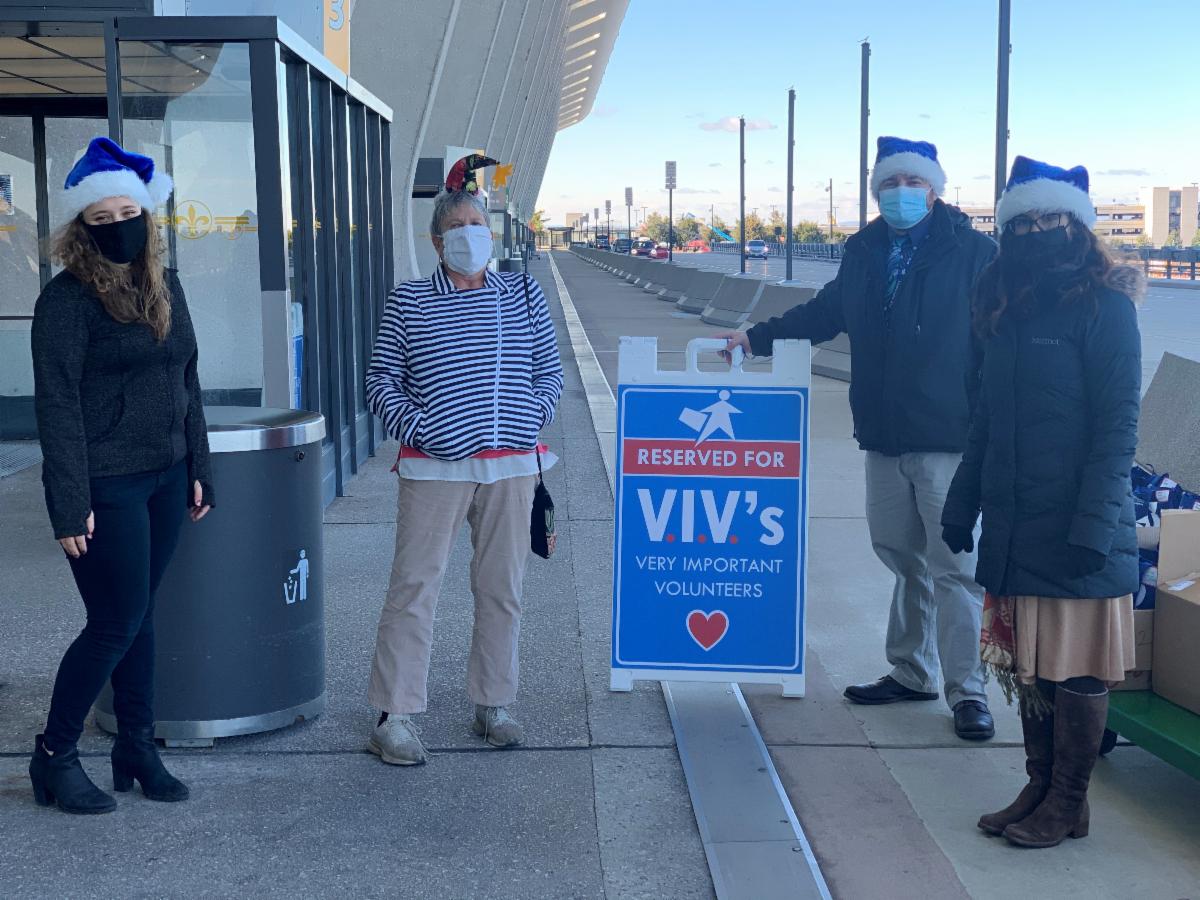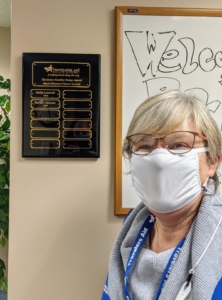 Due to the ongoing pandemic, the Travelers Aid staff at Washington Dulles International Airport had to get creative in order to safely but appropriately recognize volunteers for working throughout this difficult year.
In a multi-day affair, the TA Dulles team [from left to right above: Aliza Mendelowitz, TA volunteer coordinator; Arlene Luley, IAD volunteer since 2005; Peter Lauten, TA program manager, and Tina Mally, TA assistant program manager] held a virtual kick-off event on Dec. 4, which included messages from Travelers Aid International President and CEO Kathleen Baldwin, Dulles Customer Service Manager Dennis Hazell and Airport Manager Mike Stewart.
At the virtual event, staff recognized service milestones and presented awards. Marilyn Dickman (above) was awarded the Grace Hoadley Dodge Award in recognition of her 650 hours of service in 2020, the most among all IAD volunteers.
From Dec. 7-9 and on Dec. 12, more than 150 Dulles volunteers, many of whom had been working remotely and hadn't seen the airport in months, visited the curbside at Dulles in timed intervals to receive gifts and personal messages of thanks from staff.
According to all involved, the event was "heartwarming" and the gifts were "delicious, practical and whimsical."
TA Dulles Program Manager Peter Lauten said, "We all look forward to a future date when we can come together in person to celebrate the amazing work of our Travelers Aid volunteers. But for now, we are happy to facilitate unique and virtual opportunities to reconnect and recognize volunteers!"

Volunteer Spotlight – Margaret Truslow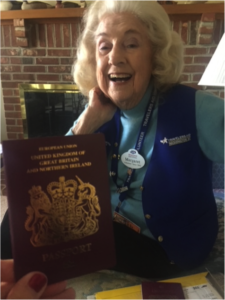 Margaret Truslow retired after a 30-year career as a manager for the American Express Travel Division and was looking for something to do in her spare time. A friend saw a recruitment ad in The Washington Post for Travelers Aid volunteers at Reagan Washington National Airport and thought Margaret would be good at it.
Twenty-eight years later — and at age 93 — she's still good at it!
In 1995, Margaret had been volunteering at DCA for three years. She had partnered with a number of volunteers during that time, but then she paired up with new volunteer Judith Ware and, 25 years later, they're still together on the 7-10 a.m. shift every Monday.
Margaret's most memorable assist during her volunteer service at DCA involved a woman reporting an abandoned bag that resulted in a portion of the airport being shut down and interviews with the police.
A second remarkable event was the 1997 opening of new terminals B and C at DCA. Volunteers were invited to tour the new terminal before it opened to the public.
Margaret was born in Manchester, England, and was there when she met her husband, "a Virginia gentleman," during the war years. They married in 1947 and then sailed to the U.S. on the SS Washington, an experience she says she will never forget.
Margaret's job with American Express gave her the opportunity to travel all over the world. Her favorite trips were to Australia, two African safaris (she just loved seeing the animals), China, Hong Kong, Singapore and Hawaii. Until the pandemic months, Margaret routinely visited the United Kingdom to visit family. For now, she enjoys her every Sunday calls with her overseas family.

Catholic Charities of Baltimore Launches Rapid-Rehousing Effort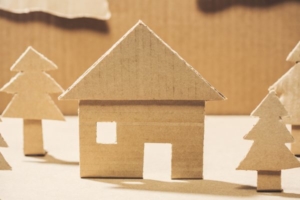 With support from the federal government, Baltimore City is working to quickly move people from shelters or other temporary settings into permanent homes, and Catholic Charities of Baltimore will be a key partner in that effort.
The Housing Opportunities and Stability – or HOST – program is driven by the impacts of COVID-19 and the need to move people out of shelters and other temporary environments, where close living quarters and shared spaces can facilitate the spread of the virus.
The agency received $2.5 million to support the work, which is expected to last 20 months.
The HOST program brings together expertise from My Sister's Place Women's Center and the agency's Community Housing programs to support a process known as rapid re-housing. This approach typically focuses on people who are experiencing homelessness but facing low to moderate needs for services, offering rental assistance and accompanying services for six months or more.
This will likely mean clients in the new program will have greater needs than those usually targeted for rapid re-housing, and HOST will also provide a longer period of rental assistance than in traditional programs.
"We're just going to have to approach it a little differently," said Chris Kelly, Catholic Charities' administrator of Community Services. "We know how hard it is to get families into rapid re-housing. Many families come with tremendous barriers."
Looking to the future, Kelly said COVID-19 may upend many traditional approaches used to support people experiencing homelessness, and rapid re-housing may become more widespread as communities wrestle with the pandemic, even after the introduction of a vaccine.
"It's still going to be a public health issue," he said of the virus. "There could be some really significant changes to homeless services – especially shelter assistance – because of this pandemic. I am anticipating there will be a focus on rapid re-housing in the future."

Staff Spotlight – Tina Mally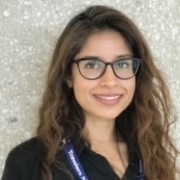 People often ask me why I like working for Travelers Aid. My answer is simple: I'm privileged to be able to help people while also having a trifecta of my interests incorporated into my work. I love traveling and being in airports, volunteering has been an important part of my life, and I wanted to work for a non-profit with a mission I can stand behind.
I joined Travelers Aid four years ago, beginning at Reagan Washington National Airport as coordinator of volunteers, and am currently the assistant program manager at Washington Dulles International. My absolute favorite part of this job is the volunteers who help to make this program what it is. They are some of the most incredible people I've had the pleasure of getting to know.
In my former life, I moved from southern Virginia to New York City, where I worked in public relations and marketing and also taught yoga. I changed course to be a trailing spouse, staying home with my kids and serving on the executive team of a non-profit association, until eventually settling down in Vienna, Va.
I spend some of my time volunteering as an organizer of an annual fundraising gala that supports victims of child trafficking and on the planning committee for a youth camp. Some other things you might catch me doing when I'm not at the airport are hiking, reading, dabbling in pottery, traveling (pre-Covid), dancing, hanging around with my two sons when they think I'm cool enough, and playing in the yard with my two dogs.

Five Things We Love About San Diego International Airport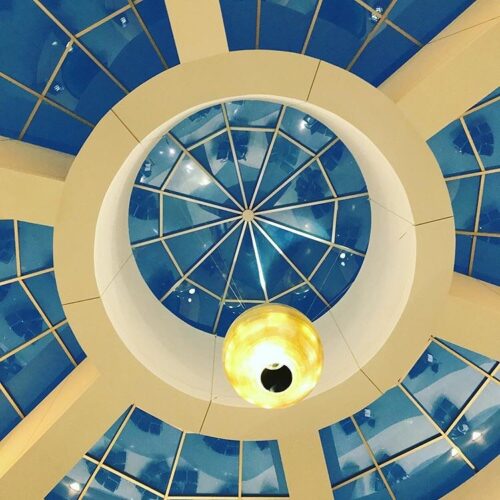 (This is a modified version of one in a series of posts in the blog "Stuck at the Airport," by Harriett Baskas. The series highlights favorite features at airports around the country, although some may be temporarily unavailable due to health concerns surrounding the pandemic.)
San Diego International Airport (SAN) is an 
international airport
 three miles northwest of downtown 
San D
iego. The facility, which is owned and operated by the San Diego County Regional Airport Authority, covers 663 acres of land.
SAN is the busiest single 
runway
 airport in the United States and third-busiest in the world, behind 
Mumbai Airport
 and 
London Gatwick
. The airport is also the second in the U.S. to be certified carbon neutral, Dallas/Fort Worth International being the first.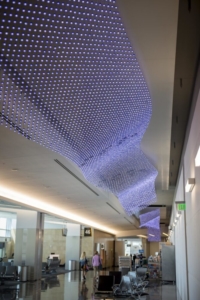 # 1 THE ART
SAN has a
robust art program
 with great permanent public art pieces and temporary exhibitions.
The Journey by Jim Campbell, located in Terminal 2, is both the airport authority's largest commission and largest scale artwork and is made up of 38,000 suspended LED pendants spanning six feet wide by 700 feet long.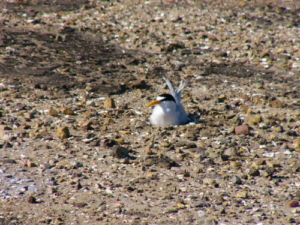 # 2 THE CALIFORNIA LEAST TERN
SAN is home to the California Least Tern (Sterna antillarum browni, "CLT"), a federally listed endangered seabird species. The airport provides the tern with a nesting habitat and easy access to foraging opportunities in nearby San Diego Bay.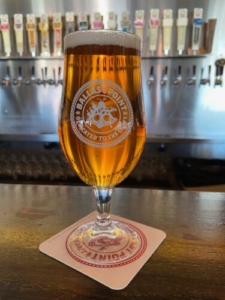 #3 ITS OWN BEER
Partnering with local brewery Ballast Point and industrial water purification company Water Works, SAN brews a beer called SAN Test Pilot.
The water for the beer comes from condensate that drips from the bottom of air conditioning units attached to jet bridges. The airport's Environmental Affairs team began collecting the dripping condensate in 2014 and currently captures about 100,000 gallons per year from 18 of the most heavily used jet bridges at terminals 1 and 2.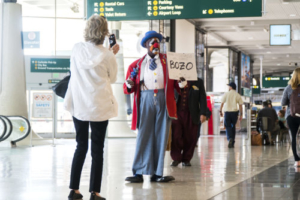 #4 ARTISTS IN RESIDENCE PROGRAM
In addition to a performing arts program, SAN has a 
performing arts residency program
 that gives area groups space to develop new work and the opportunity to perform.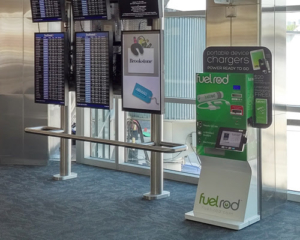 #5 INNOVATION LAB
SAN's Airport Innovation Lab
 is a 16-week accelerator program that helps entrepreneurs, start-ups and other businesses get a healthy foothold in the airport industry.
The program provides testing for the ideas and a one-year technology-intensive collaborative program.
Past Innovation Lab start-ups you may recognize include Fuel Rod and At Your Gate.

We are always on the lookout for interesting news about your organization!
E-mail 
ellen@travelersaid.org
with any and all items you would like to be considered for the monthly TAI newsletter.