Fulfilling Our Mission Amid COVID-19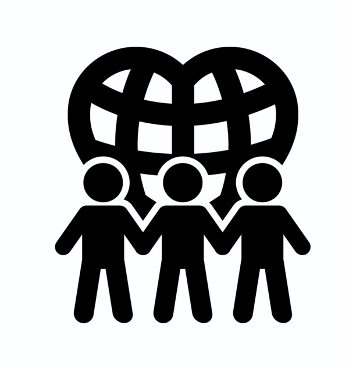 …in the Community
Staff at Travelers Aid Washington Union Station assisted a woman stranded in Fargo, N.D., to return home to Kansas City, Mo. She had traveled with her boyfriend to Fargo, both of them seeking better employment. Upon arrival in Fargo, however, the boyfriend became frustrated with the job search and began using drugs, which led him to verbally and physically abuse his girlfriend. She was able to escape during the night but did not have enough money to return home. TAI staff called her employer in Kansas City, who readily agreed to return her to her full-time job. A call was also placed to family members, eager to have her back in their home. A tearful mother was grateful for the services provided by Travelers Aid International and shared that her daughter was forced to leave her Kansas City community by the boyfriend, who had a history of domestic violence.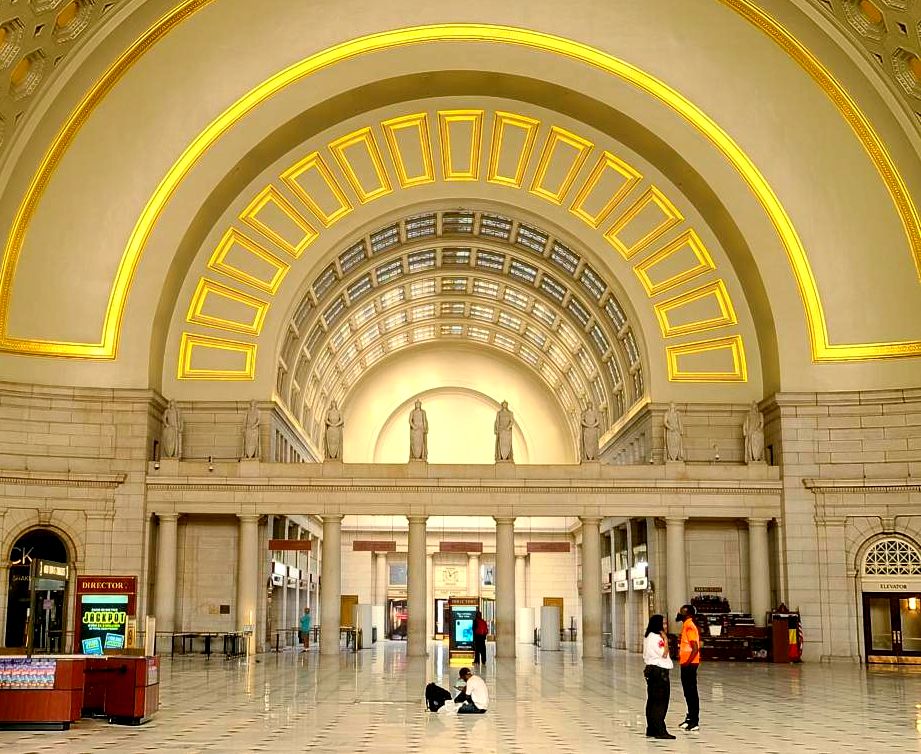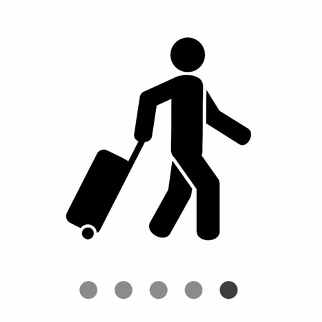 …to Assist Travelers
Newark International volunteer Serena P. encountered a passenger sitting on the floor of Terminal B, crying because she could not remember where her car was parked. Returning home from a family emergency, the woman was emotional and exhausted. Serena spotted the words "Daily Parking" on the parking ticket and kindly accompanied her to P4. To find the car, they clicked the remote on the fob in hopes of setting off the emergency alarm. After several attempts, finally the car was found. Now calmed, the woman smiled when she learned Serena's name. It was the same name as her mother, who had passed away. She called Serena "an angel" and was beyond grateful for such kind help.


JFK Volunteer Howie Gould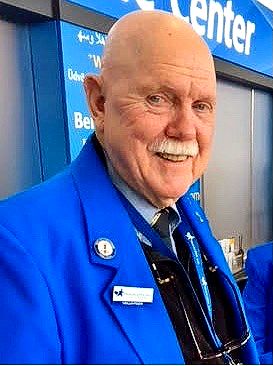 For 14 years, TAI volunteer Howie Gould regaled travelers at JFK International Airport with his extensive knowledge of the subway system and NYC attractions. It wouldn't be unusual, in fact, to find Howie surrounded by a group of tourists on the AirTrain platform, sharing pointers for getting into the city. Repeat visitors from abroad would see Howie and excitedly share about their previous trips. And once, he bought the final leg of a soldier's flight home one Christmas Eve, so the young man could surprise his family for the holidays.
Howie passed away on September 11, a Travelers Aid hero to so many. His presence will be sorely missed.
BDL Recognized as a Top Ten U.S. Airport

Bradley International Airport (BDL) has been recognized as the eighth best airport in the U.S. by Condé Nast Traveler, based on the results of its annual Readers' Choice Awards survey.
BDL has been a top-10 airport in the survey for four consecutive years.
"This award is a tremendous honor during a challenging year for the travel industry, and we are proud to once again be recognized amongst our nation's best airports," said Kevin A. Dillon, A.A.E., executive director of the Connecticut Airport Authority, operator of BDL. "We thank the travel community for their continued vote of confidence in Bradley International Airport and for underscoring the value of traveling through a smaller airport. Now more than ever, Bradley Airport stands out by always offering a clean, safe and convenient travel experience."
In response to COVID-19, BDL has heightened its commitment to its passengers with the introduction of a comprehensive safety program called "BDL Cares."
Elements of the new program include a face-covering requirement for employees and passengers, additional cleaning, physical distancing reminders, plexiglass shields at customer interaction points, and hand sanitizer stations throughout the terminal. Most recently, the airport has also launched a COVID-19 testing site for passengers and staff, located in baggage claim.
DCA Volunteers to Serve at New Army Museum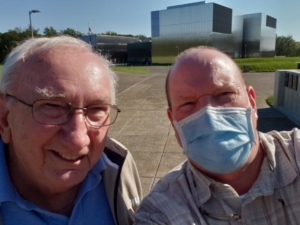 Two Travelers Aid volunteers at Reagan Washington National Airport are among the newest fully trained volunteers for the National Museum of the United States Army (NMUSA). DCA volunteer Dick White (left), with Travelers Aid for the past eight years, and Ted Edwards, a seven-year TAI volunteer, will be on hand when the facility opens on Nov. 11, 2020. The museum, located at Fort Belvoir in Virginia, just outside Washington, D.C., was originally scheduled to open in June but the opening was delayed due to the pandemic.

Volunteer Spotlight – Richard Incorvati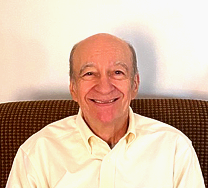 "One time last year, I saw an elderly couple wheeling two huge luggage bags. They asked where they could find the ticket counter for a particular airline. I offered to help with the bag that the lady was struggling to wheel, and she gratefully accepted. I took them exactly to where they needed to go, and the man then took a five-dollar bill out of his pocket and said, 'Thank you very much. I want you to have this.' I refused the money and said, 'Sir, seeing the smile on your face and knowing that you and your wife are comfortable was worth more to me than anything.' This is a part of volunteering that is absolutely priceless!"
Originally from the greater Boston area, Richard began volunteering at Bradley International Airport in Connecticut in 2014, but he first came to the state in 1968 and began working at the airport in the air freight business. He was there for 18 years and then worked for the state until he retired.
When he's not volunteering, Richard tends a good-sized vegetable garden and also makes his own red and white wine. He's been married for 50 years and has two sons, two grandsons and a granddaughter.
"I love going to the airport and being with my volunteer partners, because I know we all get a lot of satisfaction from what we do."

Hawaii Reopens for Tourists, But . . .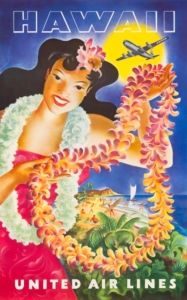 Hawaii reopened to tourists on October 15 — but the only visitors who will be able to skip the 14-day quarantine rules will be those with proof of testing negative for COVID-19 within 72 hours before they depart the mainland. Hawaii officials will only accept test results from providers approved by the
Hawaii Department of Health.
In addition, every visitor MUST fill out a mandatory travel and health form before arriving at the airport in Hawaii. The form can be found in the "Safe Travels Hawaii" app. This lets the state know when the visitor will be arriving and if they have gotten tested for COVID-19.
On Oct. 14, the Hawaii Department of Health reported 101 new positive cases — one new case on Maui, 18 on Hawaii Island, 81 on O'ahu and one resident was diagnosed outside the state for a cumulative total of 13,674 cases statewide reported since Feb. 28, 2020. A total of 462,541 tests have been performed and results received for the state.

Upward Transitions One Recipient of Grant to Help Human Trafficking Victims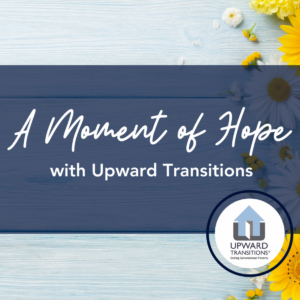 Upward Transitions, t
he city of Oklahoma City
and The Dragonfly Home have received a $500,000 federal grant to provide transitional housing for victims of human trafficking.
The grant, from the Justice Department's Office for Victims of Crime, will assist victims of human trafficking with up to two years of transitional housing costs, including rent, utilities and relocation expenses. The grant will also help victims find permanent housing and employment, and provide access to occupational training and counseling.
The Dragonfly Home, founded in March 2016 and the only non-profit in Oklahoma City that is state-certified to serve victim-survivors of human trafficking, will provide trauma-informed, victim-centered services and make assessments for referrals to Upward Transitions, which will provide housing-focused case management and rental assistance.
"Upward Transitions is honored to work alongside The Dragonfly Home and Oklahoma City in supporting those who are exiting human trafficking," said Upward Transitions CEO Periann Pulliam, also a Travelers Aid board member. "Our housing support will be a critical component in creating the stability necessary for a successful recovery and transition into a productive, autonomous life."

Staff Spotlight – Dr. Willie Ringold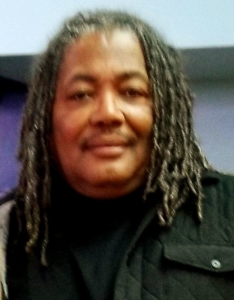 Willie is the director of social services at Washington Union Station, a position he has held with Travelers Aid International since August of 2000. Prior to joining TAI, he worked for other non-profit organizations in the Washington, D.C. area, as well as in Illinois and Florida.
Willie received his bachelor's degree in social work from the University of Mississippi — his home state — and later earned both his master's and doctoral degrees from Howard University in Washington, D.C. He then served as an assistant professor at Bowie State University in Towson, Md., teaching and advising students in the field of social work.
When he's not at work, Willie enjoys watching political news updates on TV, reading, driving to scenic areas and (a return to) traveling to various Caribbean islands.

Five Things We Love About Washington Dulles International Airport

(This is a modified version of one in a series of posts in the blog "Stuck at the Airport," by Harriett Baskas. The series highlights favorite features at airports around the country, although some may be temporarily unavailable due to health concerns surrounding the pandemic.)
Washington Dulles International Airport (IAD) is located in Chantilly, Va., on 12,000 acres of land in the suburbs of Washington, D.C. It is a major hub for domestic and international air travel with a mixture of legacy and low-fare carriers that provide air service throughout the world. The airport has invested in its infrastructure through a major capital program, which included two parking garages, a new airport traffic control tower, expanded B-gates, a new fourth runway, an AeroTrain people mover system and an expanded International Arrivals Building. A 23-mile expansion of the region's Metrorail subway system that includes a station at Dulles is under construction.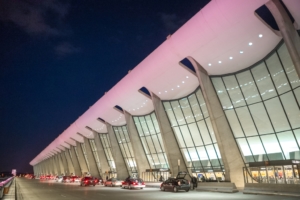 # 1 THE MAIN TERMINAL
Opened in 1962 as the country's first 'jet-age' airport, Dulles International is perhaps best-known for architect Eero Saarinen's iconic curved-roof design for the main terminal.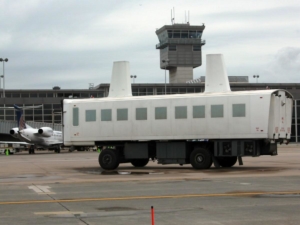 # 2 THE MOBILE LOUNGES
These days, many passengers at IAD move between concourses on the underground AeroTrain, a 3.8-mile underground people mover system. But IAD's historic mobile lounges are still in use.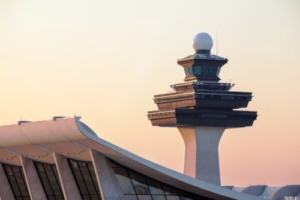 #3 THE HISTORIC FAA AIR TRAFFIC CONTROL TOWER
The original Airport Traffic Control Tower at Dulles dates to the airport's opening in 1962 and remains on-site because of its historical significance to the airport's design. A new tower was dedicated in 2007 and is about one mile from the original tower.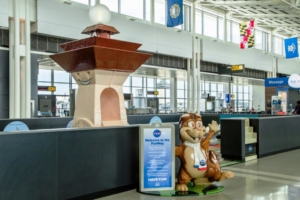 #4 KIDS PLAY AREA
What can we say? Sometimes kids have all the fun at the airport.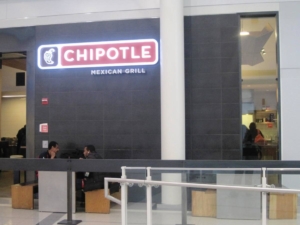 #5 ONLY AIRPORT WITH CHIPOTLE BREAKFAST
Want a breakfast burrito made by Chipotle? The only place you will find that on the Chipotle menu is at IAD.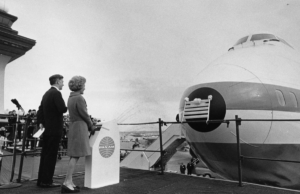 BONUS: PAT NIXON CHRISTENS FIRST COMMERCIAL BOEING 747
Back on January 15, 1970, then-First Lady Pat Nixon christened the first commercial Boeing 747 during a ceremony at Dulles Airport. She also got to sit inside the plane's cockpit.

We are always on the lookout for interesting news about your organization! ​E-mail ellen@travelersaid.org with any and all items you would like to be considered for the monthly TAI newsletter.