Fulfilling Our Mission Amid COVID-19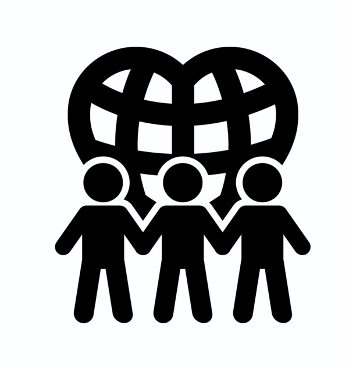 …in the Community
"SL" first made contact with a staff member from the Travelers Aid Society of Greater New Orleans in the city's downtown public library. He whispered across a crowded room near the circulation stacks, "I'm ready to change my life." SL was facing daily challenges because he was trying to maintain a steady job as
a professional mover, while sleeping under bridges and in public parks.
SL explained that he had been homeless for months, and he was "tired and worn out" from the constant instability of his life. After a quick assessment by TA staff – during which his employment and desired housing situation were discussed — he was referred to TA's Rapid Re-Entry Housing Program. During his two weeks of appointments, TA staff encouraged him to stay engaged in the process.
After those two weeks, SL was back in the office, and he was beaming. He was overjoyed by what the future held for him. After signing a lease for a new apartment, SL said, "I'm destined for greater things than being homeless, and I'm determined to stay housed by any means necessary."
Although SL admits he still has some very real challenges up ahead — the professional moving industry typically slows down during the fall and winter, for example — his determination, coupled with the continued support of TA staff, will ensure that he succeeds. (Image above by Kirsten Detec)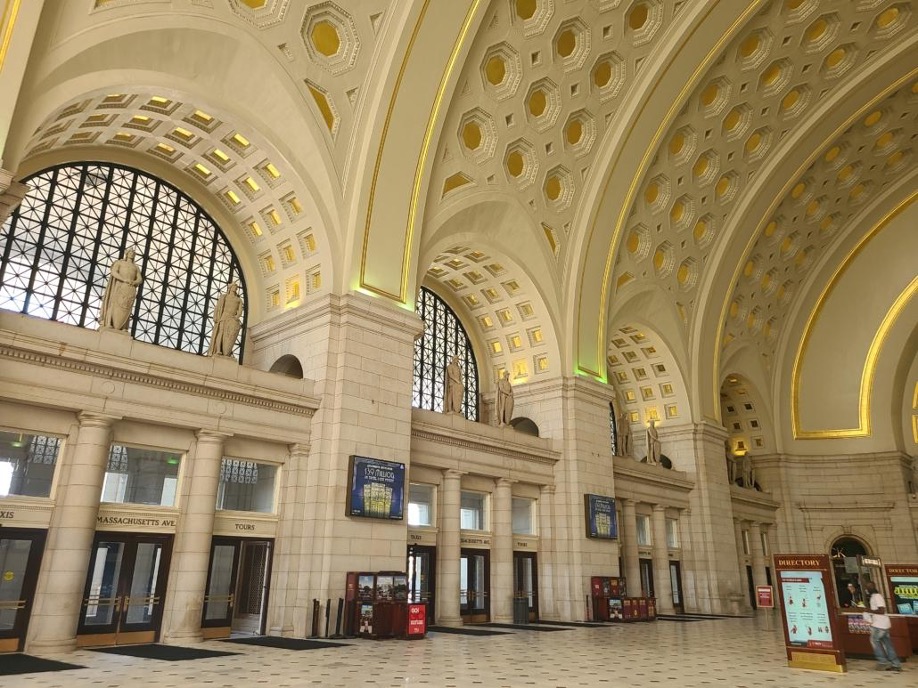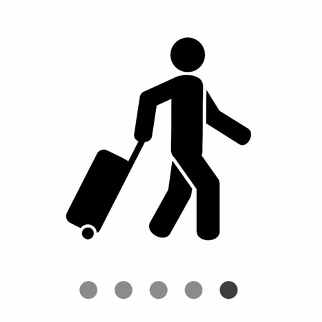 …to Assist Travelers 
Staff at Travelers Aid Washington Union Station spent
eight days working with various D.C. agencies before
returning a woman home to her mother in New York City.
The initial request was received from the Department of
Human Services, followed by one from a local shelter,
then a D.C. community agency and finally an area
hospital. The resident disappeared each time, causing
her Greyhound ticket to be exchanged twice. The situation was finally resolved when the client was sent via cab to Union Station upon her release from the
hospital, and she was met there by a D.C. community worker and Amtrak Police, both of whom escorted her onto the Greyhound bus to return to her mother. Travelers Aid received a call from the client's mother thanking them for their unwavering patience with and continuous assistance for her daughter.
TAI Kicks Off Virtual Learning Series with Self Care Webinar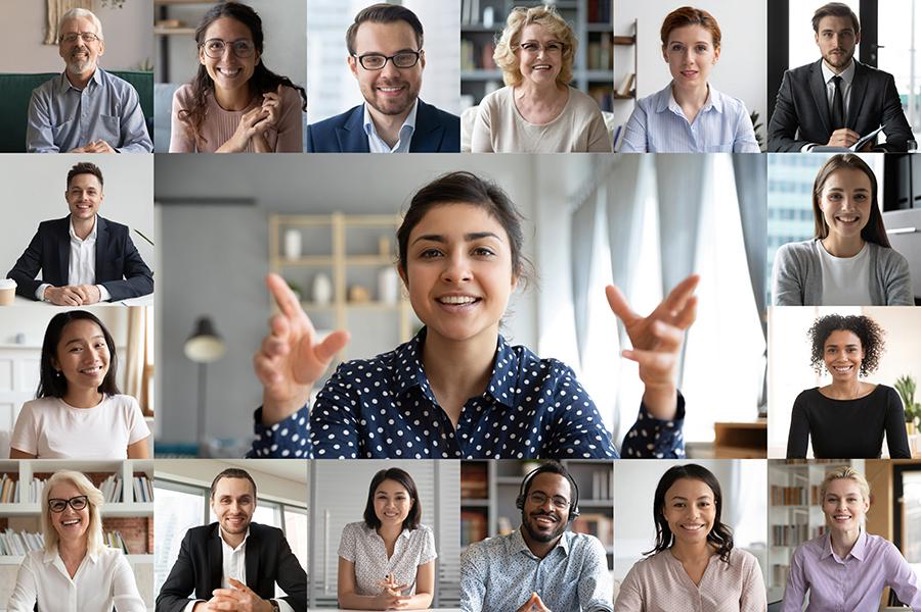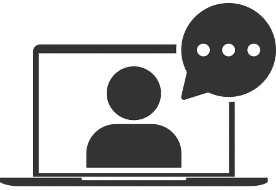 Travelers Aid International held the inaugural installment of its virtual learning series on Sept. 10, featuring a Zoom webinar on Self Care presented by Jason Miller, CEO of Families Forward Philadelphia. Nearly 50 people participated in the event, which focused on the elements of taking care of yourself while taking care of others, such as
recognizing the signs of burnout, giving yourself compassion and asking other people for help.
Jason also shared some of his personal tips for "centering" yourself every day, such as making the effort every day to consciously think of one person you are grateful for, and then reaching out to tell him or her. He also sets aside one hour every Friday to e-mail five people he's wanted to reconnect with but hadn't done so.
The second presentation in this series is scheduled to take place in November, so look for an e-mail with details on the time and topic!
Volunteer Spotlight — Judy Mitchell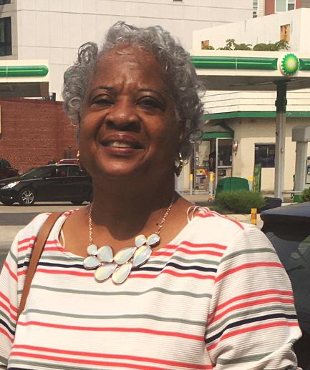 Judy Mitchell was born in Washington, D.C., and has lived in the city her entire life. She grew up shopping, having lunch and just hanging out at Union Station – so after she retired from the Metropolitan Police Department and D.C. Superior Court in 2010, what better place to volunteer?
Judy has been doing just that for the past seven years, but also was volunteering at Washington Hospital Center while she was still working full time. She would spend time with the patients, help out during the holidays, visit the new moms
in the Maternity Ward, staff the reception desk in the Surgical Waiting Area and assist the Head Nurse in the Operating Room, devoting 500 hours during her time there.
With TA at Union Station shut down since early March, Judy has spent even more time helping out at her church, with a focus on comforting parishioners who have lost loved ones and assisting with funeral arrangements.
Judy has always considered it a top priority to continually work on broadening her customer service skills and improving herself. And she also has relished the opportunity to work with her fellow volunteers at Union Station, who are "very dear" to her. "I feel like I've had the best workers that I could ever wish for," she said.
And they're probably thinking the exact same thing, Judy!
Fallen Korean War Hero Honored at DCA Ceremony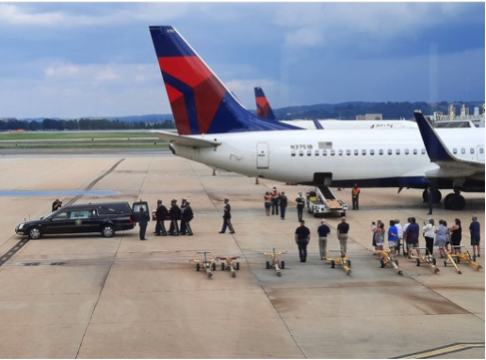 Volunteers Alan Davis and Ken Lane on Aug. 12 witnessed what they described as "an extraordinary scene" from the Info B Desk at Reagan Washington National Airport.
Around 4 p.m., a Delta flight arrived from Los Angeles, and shortly thereafter a hearse with an official seal drove up and parked next to the plane. About 15 people walked out onto the tarmac and waited for a coffin to be passed down from the cargo hold.
A passenger who had been on the same Delta flight told Alan and Ken that the pilot announced that their plane was carrying the remains of a young soldier who had been missing in action during the Korean War. His remains were either just discovered or just released by North Korea and were being flown home to Arlington Cemetery for burial. The family members present on the tarmac were descendants of this "fallen hero," whose death had occurred almost 70 years ago.
A military honor guard marched out to escort the casket as it was loaded into the hearse. The family returned inside the airport and headed toward Terminal C, where a 30-minute ceremony took place. Many airport passengers and guests stood at attention to watch and to pay their respects.
Alan and Ken felt very privileged to have witnessed such a poignant historical event.
Staff Spotlight — Priscilla Carey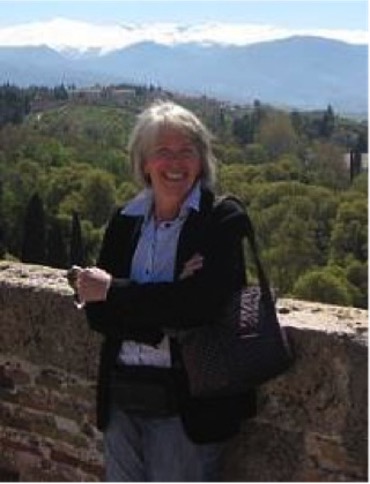 Priscilla Carey is the assistant manager for Travelers Aid at Reagan Washington National Airport. She began as a volunteer in 2009, joined the TA staff in 2012 as a part-time coordinator of volunteers and returned to full-time work in her "encore" career. A favorite part of the job is working with the Reagan volunteers ….a wonderful group of incredible people.
Logging 35 years of federal service, Priscilla retired from the federal government in 2007. Her career with the government started right out of Wheaton College (MA) with a job as a clerk-typist with the Veterans Administration (now the Department of Veterans Affairs). She
retired as a member of the Senior Executive Service, serving as director of operations for the Department of Agriculture. In this job, she was responsible for USDA headquarters operations and services. As director, Priscilla had a lead role on September 11, 2001, ensuring the safety and security of USDA employees, including the Secretary of Agriculture.
A self-described "travel geek," Priscilla is happiest when standing in a security line at Dulles International Airport with passport in hand. Memorable trips to Turkey, India, Romania, Russia and South Africa top her list, as well as at least annual visits to London and Key West. During this time of pandemic, she has filled time with jigsaw puzzles and books!
Priscilla lives in Arlington, Va., with her husband Eric, who recently retired from the Metropolitan Washington Airports Authority. They have three children and four grandchildren, whom she can't wait to hug when the world's health improves!
ONT Receives Customer Service Accreditation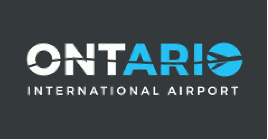 Ontario International Airport (ONT) is now Level One Customer Service Experience Accredited. The honor, given by the Airports Council International of North America (ACI-NA), recognizes ONT's ability to identify, understand and address the needs and expectations of airport guests and visitors. ONT is one of nine airports in North America, and the only one in the Los Angeles area, to earn that distinction. Travelers Aid of the Inland Empire (TAIE) and their team of volunteers are part of the Customer Experience team at ONT.
This Atlanta Park Has its Own Caseworker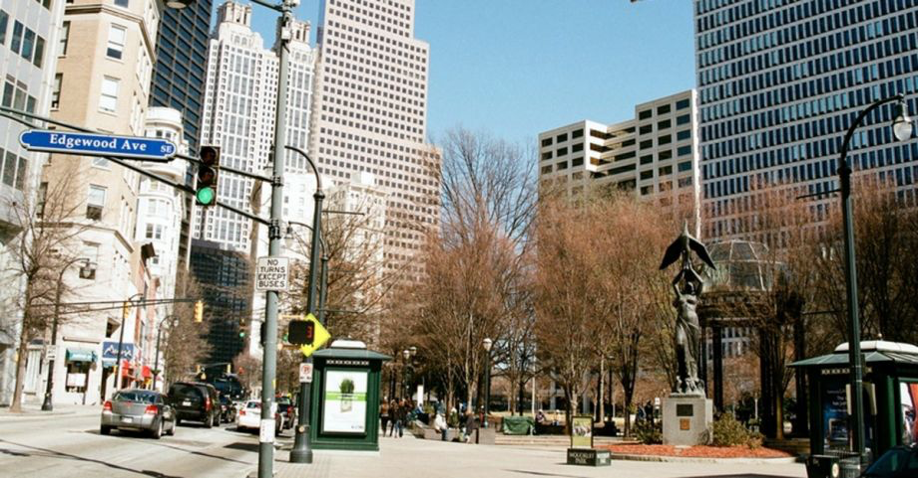 (This story was written by Adina Solomon, a freelance journalist based in Atlanta. Her work has appeared in The Washington Post, CityLab, U.S. News & World Report and other national and local outlets; photo by juliette rien)
At least three days a week, Janika Robinson takes a walk around Woodruff Park in downtown Atlanta and greets parkgoers.
For people she doesn't know, Robinson introduces herself and lets them know why she's here: to guide them to any resources they need.
Robinson is a case manager for HOPE Atlanta, a nonprofit addressing homelessness. She is dedicated full time to Woodruff Park, where she talks with the many people there who experience homelessness. She provides housing and social assistance and service referrals for anyone who approaches her.
"Your main objective is to build that relationship and to let them kind of come to you," Robinson says. "When they come to you, that means they're ready."
The Woodruff Park program is a partnership between HOPE Atlanta and the Atlanta Downtown Improvement District (ADID), a public-private partnership funded by a community improvement district. ADID, which manages upkeep of Woodruff Park, approached HOPE Atlanta about ways to work with people there who are unsheltered.
Woodruff Park is one of the few parks nationwide that has its own case manager or social worker. Robinson became Woodruff's first case manager in September 2018. Since then, she has helped place 135 people in permanent housing and connected more than 1,000 others to social services.
To read the full article, click here.
Board Spotlight — Chet Sobotka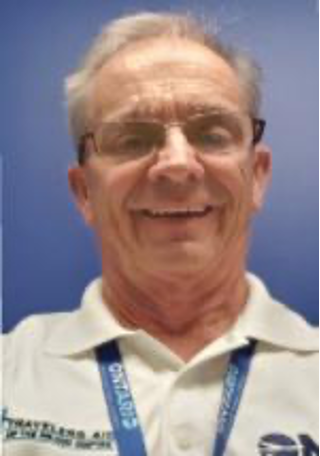 You never know what doors your volunteer service will open for you. Take Chet Sobotka, for example. He started out as a volunteer for Travelers Aid of the Inland Empire (TAIE) at Ontario International Airport in California, and two years later, he became director of volunteer services. And now he's one of the newest members of the TAI Board of Directors!
Chet also serves on the boards of Friends of the Airport and Honor Flight of the Inland Empire, two non-profit organizations tied to ONT.
Chet is a Vietnam veteran who served 10 years
in the Navy. His service took him to the West
Coast in 1975, and after leaving the service he remained in California, where he would work for the next 34 years as a program manager for a defense contractor in California, .
But something even more important happened during those 34 years. He met his wife.
It all started with an all-hands-on meeting. He was coming through one door to a conference room and she was coming through a door on the opposite
side. Chet saw her and said to himself, "I'm going to marry that girl." And they have been together ever since.
When he decided to propose, she never saw the engagement coming, as they hadn't even been looking at rings. Instead, Chet purchased a stand-alone diamond and put it in a Christmas card. She opened the card on Christmas Eve while exchanging gifts with Chet and her parents, who were in on the surprise. Thankfully, she said yes.
Chet grew up in Connecticut, which he still misses, but he and his bride have lived on the West Coast ever since he first moved there. He has three grown children and six grandchildren.
Five Things We Love About Boston Logan International Airport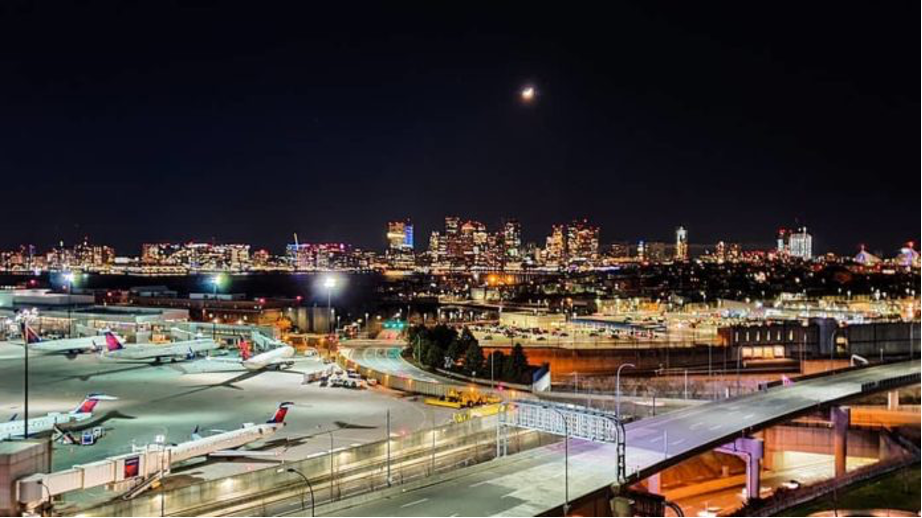 (This is a modified version of one in a series of posts in the blog "Stuck at the Airport," by Harriett Baskas. The series highlights favorite features at airports around the country, although some may be temporarily unavailable due to health concerns surrounding the pandemic.)
Boston Logan International Airport (BOS) is located mostly in East Boston and partially in Winthrop, Massachusetts. It opened in 1923, covers 2,384 acres, has six runways and four passenger terminals, and employs an estimated 16,000 people. It is the largest airport in both the Commonwealth of Massachusetts and the New England region in terms of passenger volume and cargo handling, the 16th-busiest airport in the United States and the busiest airport in the Northeast outside the New York metropolitan area.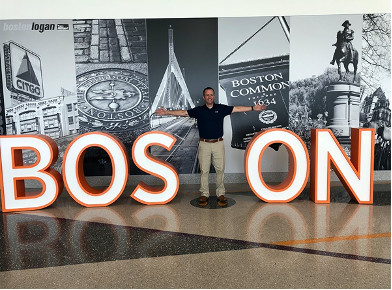 # 1 ART
The public art program at BOS features both permanent pieces and temporary exhibitions and includes the Sports Wall, which celebrates sports championships and the Boston "T" Party exhibit, which invites travelers to take selfies and, of course, share them.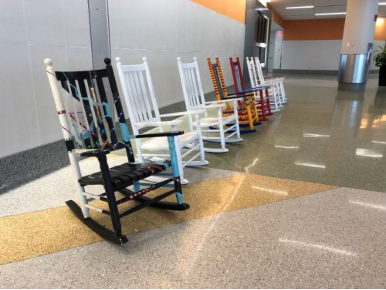 # 2 ROCKING CHAIRS
Like many other airports now, BOS has rocking chairs scattered about. Here, some of the rocking chairs are plain white while others are painted by artists.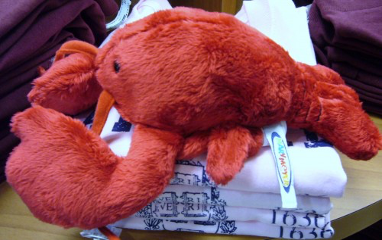 #3 SHOPPING
We love shopping for souvenirs at BOS! There are tons of fun Boston- centric and lobster-themed gifts available and, in non-COVID times, it was possible to pick up live lobsters to go at Legal Sea Foods.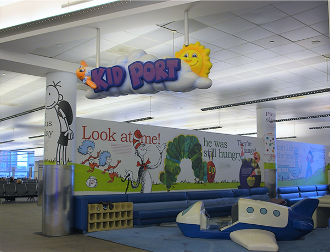 #4 FAMILY-FRIENDLY AMENITIES
BOS has nursing pods in each terminal and Kid Port play spaces in several terminals. If you and your kids can't agree on what kind of food to eat, Boston Logan is one of the airports where you (pre-COVID) could have AtYourGate deliver food to you from eateries across all terminals.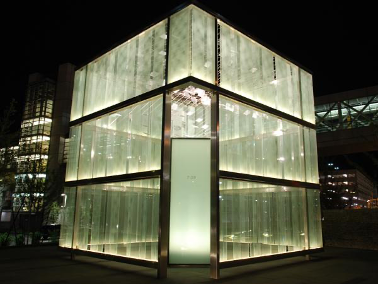 #5 THE 9/11 MEMORIAL
The Logan Airport 9/11 Memorial at BOS honors the passengers and
crews of American Airlines Flight 11 and United Airlines Flight 175. These two planes departed Logan Airport for Los Angeles on Sept. 11, 2001, and were hijacked by terrorists who flew them into the World Trade Towers in New York.
The memorial was dedicated on Sept. 9, 2008, and is a 20-by-20-foot glass cube that glows with a soft light at night. Inside the cube are two glass panels etched with the names of the people who were on each flight.
The memorial is in a small, park-like area between Terminal A and the Hilton Boston Logan Airport and is open 24 hours.

We are always on the lookout for interesting news about your organization! ​E-mail ellen@travelersaid.org with any and all items you would like to be considered for the monthly TAI newsletter.