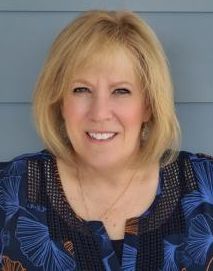 Time flies, doesn't it?
I write this at the end of my second year as president and CEO of Travelers Aid International. As year three starts, I wonder where the time has gone. You all know the saying, "Time flies when you're having fun." Well, fun it has been.
TAI is a complex, wonderful organization that has a mission to help those in distress.
As I think about that mission, I know that
the organization wouldn't be able to accomplish any of its goals without you – our members, our volunteers and our staff. TAI is blessed with the best of all three. Thank you all for your invaluable assistance in making my job so meaningful, so much easier – and so much fun.
And speaking of fun, where's the snow? When I arrived in D.C. this month, I was expecting – no, hoping for – at least one good snowstorm. TAI staff and volunteers in this region have been telling me for the past two years, "Oh, February is the snowiest month in D.C. You will definitely see some snow while you're here this time."
I am still waiting for those flakes to fall. I have two more weeks here until I go back to my other office in San Diego, and hope springs eternal! While I fortunately still find the cold weather charming, it would be even more so with a big blast of the white stuff from Old Man Winter.
Kathleen Baldwin, TAI President and CEO

TAI's Pandemic Webinar is Almost Here!
A reminder that Travelers Aid International's third webinar presentation, "Thriving During the Pandemic," will begin at 3 p.m. (Eastern Time) tomorrow, Feb. 18. Expert panelists Marcy Roke, Periann Pulliam and Donna Paramore, Travelers Aid representatives from San Diego, Oklahoma City and New Orleans, respectively, will share lessons learned, skills gained and challenges faced during the pandemic.
The format will be a brief presentation from each panelist, followed by breakout sessions. Participants will be randomly assigned to one of the breakout rooms that will be moderated by one of our panelists. For the initial presentation, your video may remain off. During the breakout session, please activate your video so that full engagement can occur.
Below are instructions for joining the webinar:
Join Zoom Meeting
Meeting ID: 821 8426 7609
Passcode: 828925
One tap mobile
+13017158592,,82184267609#,,,,*828925# US (Washington DC)
+19292056099,,82184267609#,,,,*828925# US (New York)
Dial by your location
       +1 301 715 8592 US (Washington DC)
       +1 929 205 6099 US (New York)
       +1 312 626 6799 US (Chicago)
       +1 346 248 7799 US (Houston)
       +1 669 900 6833 US (San Jose)
       +1 253 215 8782 US (Tacoma)
Meeting ID: 821 8426 7609
Passcode: 828925

Fulfilling Our Mission Amid COVID-19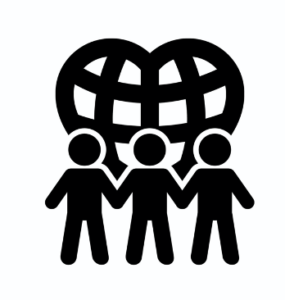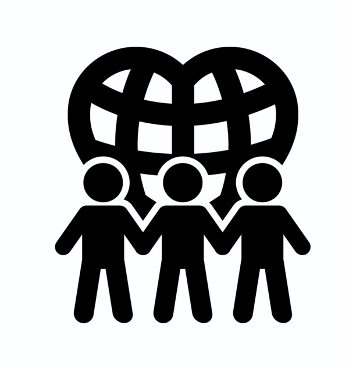 …in the Community
FamilyAid Boston (FAB) Case Manager Mistral Olaverria recently stopped for a smoothie at On The Edge Nutrition, a South Boston health food store. She was greeted with a friendly smile by the shop's manager, Denisse. Mistral introduced herself and, to her surprise, learned that Denisse was once an FAB client.
In 2011, Denisse became both a widow and a new mom. Unable to keep up with the cost of both rent and daycare, Denisse and her then-toddler son, Gesus, left their apartment to stay with extended family. Unfortunately, living with multiple families was tough, and the small, overcrowded apartment put a strain on Denisse's health. Denisse finally made the difficult decision to apply for shelter, and she and her son were placed with FAB.
From her first day there, Denisse was motivated and determined to find stable, permanent housing. She met with her FAB support team to address her family's needs, establish a plan to help reach her goals, connect her to community resources and, eventually, return to stable housing.
"FamilyAid Boston put me in a position where I was able to get out of a toxic environment and make my own space to grow, become independent and find an apartment for my family," says Denisse.
Denisse's support team helped her find affordable daycare for Gesus, which allowed Denisse to enroll in a job training program and focus on her mental and physical health. Upon completion of the program, Denisse earned a certificate in business management.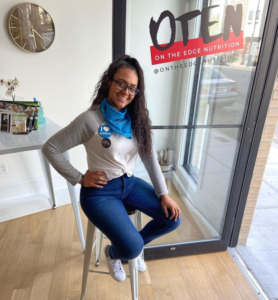 Several months after she came to FAB, Denisse obtained an affordable housing voucher and, with FAB's help, found a wonderful apartment close to her son's daycare, where they have now been for six years.
Through networking and connections made during her time with FAB, Denisse successfully launched a health coaching business that now has a large social media presence. A year ago, she helped establish On The Edge Nutrition, which is introducing healthy alternatives to residents in South Boston and beyond. Without FAB's help, Denisse would not be able to celebrate the transition from being homeless to becoming a business entrepreneur!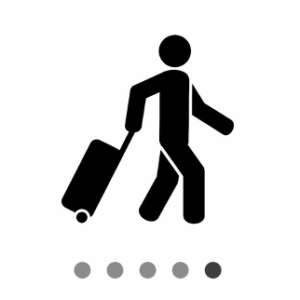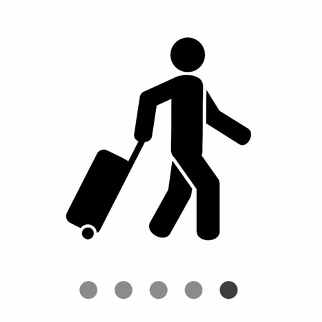 …to Assist Travelers
A young Colombian woman working for Etihad Airlines needed to get back to Dubai for work on Jan. 19. She flew from Colombia on Jan. 15 and had a stopover at Washington Dulles International, and thought she was booked to fly to Dubai from IAD on Jan. 16.
That morning, when she didn't see her flight listed on the departures board, she asked Chris Moore, a TAI volunteer at IAD, about the flight. He happened to know that Etihad Airlines did not have a flight scheduled from IAD on Jan. 16. Looking more closely at her ticket, they discovered that the flight was booked for Feb. 16, one month later.
The two were able to get the ticket re-booked for Jan. 17, but then realized she also needed proof of a negative COVID PCR test to fly. Chris found Resource Path in Sterling, Va., a nearby testing site, that could do the test that day, and arranged for a Lyft ride for her to the site. A passenger assist that took only three hours! Great work, Chris!

TAI Opens Online Merchandise Store!

Travelers Aid International is pleased to announce the grand opening of its long-awaited online merchandise store, called the Sideline Store. Now through March 5, 2021, using the discount code SPIRIT21, we are offering a 25% discount on all items in the store, the deepest discount that will be offered throughout 2021 — although special promotions will take place all year long.
Board Spotlight – Jessica Lani Rich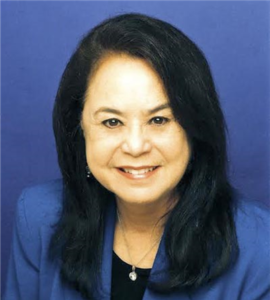 "My father was a former police officer who became a professional wrestler, then a small businessman. He passed away in a foreign country while on his honeymoon with his new wife. That's when I decided I wanted to make my living helping travelers in need, so I feel fortunate that my job has allowed me to do just that and make a difference in the lives of thousands of visitors who come to Hawaii and end up needing help."
Jessica Lani-Rich has been helping visitors for 16 years as the president and CEO of Travelers Aid of Honolulu and the Visitor Aloha Society of Hawaii.
Before joining the TAI family, Jessica worked in the news media and was a news and public service director for seven radio stations and hosted her own radio show, putting to good use her Bachelor's and Master's degrees in communications. She also was the public relations director for two major museums, the Honolulu Museum of Arts and the Bishop Museum.
Besides Jessica's full-time work for Traveler's Aid, she is also a television producer and the host of "Inspire You & Me," a TV show that broadcasts at
8 p.m. every Sunday night on station KWHE-TV-14 in Honolulu. She also plays the ukulele and sings with the Mele Rotarians group, which she also leads.
Living in Hawaii is memorable in itself, but Jessica has also enjoyed visiting many cities on the mainland, most of which she traveled to because of her involvement with TAI. During one TAI conference in Dallas many years ago, a tornado alarm sounded and all the attendees had to hide inside a winery where a dinner event was being held. Not a bad place to be during a tornado!

Volunteer Spotlight Pat and Jim Flannigan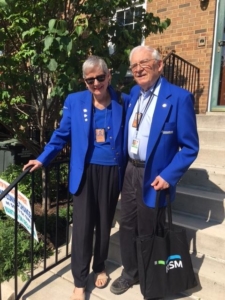 Between them they gave nearly 40 years of service as volunteers for Travelers Aid programs at Reagan Washington National Airport and at Washington Union Station. After 40-year careers in the Washington, D.C., area – Pat as a nurse and Jim as a journalist – they have just moved to Roseville, Calif., to be near their daughter.
Pat worked one day a week for 22 years at DCA, starting when the new terminal opened in 1997. After her first eight years there, she also began volunteering one day a week at Union Station. Jim volunteered for about 16 years at the airport, writing a newsletter for DCA, Washington Dulles and Union Station, and nine years at Union Station.
Pat and Jim had many adventures at both locations. One that stands out for Pat was helping a man with Tay-Sachs disease, who appeared quite threatening when he came to the information desk at DCA. Pat's partner at the time wanted to call the police, but as a nurse, Pat recognized the symptoms of the disease, which include slurred speech, unsteady gait and tremors. The man had come by bus from upstate New York and was looking for a conference he had heard about on Tay-Sachs. With the help of TAI staff at the airport, the conference was found and the man was sent happily on his way.
Jim enjoyed many years as an amateur magician and was very active in two magic clubs in the D.C. area, even working as a demonstrator in Al's Magic Store for years. Both Pat and Jim loved hiking the many beautiful trails in the Northern Virginia area and were members of the Appalachian Trail Club. Pat also enjoyed reading and cooking.
Good luck on your new chapter out West, Pat and Jim! You will be missed!

Travelers Aid Honors IAD, DCA Volunteers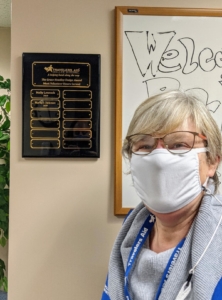 Travelers Aid recently honored two of its customer service volunteers, one each at Reagan National and Dulles International airports, for contributing a total of nearly 1,000 hours of service to airport passengers in 2020.
At Dulles International, Marilyn Dickman was presented the Grace Hoadley Dodge Award, given to the volunteer who serves the most hours, at a virtual appreciation event. Marilyn, who spent much of her 38-year professional career working in human resources for the federal government, provided 650 hours of service last year at Dulles.
At Reagan National, Ed McGee was given the William Dukstein Service Award for his 335 hours of service last year. It is the fourth consecutive year he has volunteered the highest number of hours at the airport. In those four years, Ed has volunteered more than 2,000 hours.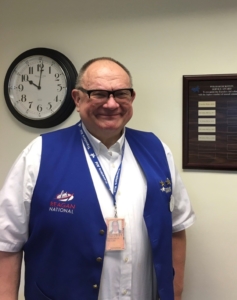 Volunteers from Travelers Aid have helped DCA passengers since 1941 and IAD passengers since 1963. Last year, more than 434,000 travelers were assisted at information desks and by mobile volunteers at both airports.
The Metropolitan Washington Airports Authority expresses its deep gratitude and appreciation for all Travelers Aid volunteers, who, as their slogan says, "provide a helping hand along the way" to our airport community.

CC Gainesville to Host Inaugural Spirit of Charity Golf Tournament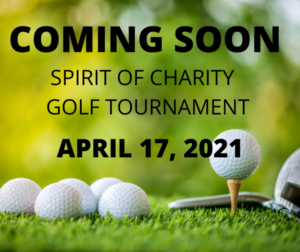 The Catholic Charities of Gainesville (Florida) is holding its first-ever Spirit of Charity Golf Tournament, scheduled for Saturday, April 17, 2021. All proceeds will benefit the organization's programs and services that provide financial assistance and other basic needs to families and individuals struggling to make ends meet.
In response to the continuing pandemic, strict safety protocols and precautions will be taken to ensure golfers have a safe and fun experience. Breakfast and lunch will be provided by local eateries, and refreshments will be available out on the course throughout the tournament.
Prizes for winners in multiple categories will be awarded and a $25,000 hole-in-one challenge will be sponsored by North Florida Wealth Advisors. All golfers will receive special gift bags, and golfers will be able to purchase mulligans, raffle tickets and tickets to a drawing for a one-of-a-kind 19th hole gift basket.
The crushing impact of the COVID-19 pandemic continues to be felt by all in the non-profit community, making donor support all that more important. Individuals or companies who are interested in participating but are unable to attend may become a hole sign sponsor or make a donation to the tournament. The Catholic Charities of Gainesville thanks you for all support!

Staff Spotlight – Edward Powers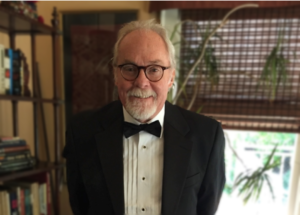 I have been working at TAI for 18 months as membership director. Prior to this job, I was the executive director of Travelers Aid of Metropolitan Atlanta (now known as HOPE Atlanta) for 25 years. I was lucky to have been able to serve on the TAI Board of Directors for 18 of those years.
One event in particular stands out during my tenure at HOPE Atlanta. It was on September 11, 2001. My deputy director and I decided that it would be prudent for us to go out to our booth in the Atlanta airport to do whatever needed to be done. At 11:30 p.m., an airport policeman informed us that they were closing down the entire airport and the 150 stranded passengers who had planned to sleep in the atrium had to leave at midnight. I was in panic mode and trying to contact the United Way to secure funding to house and feed these folks.
Out of nowhere, the general manager of the nearby Holiday Inn approached me and said she had the vacant rooms, a bus to transport all of the passengers and could arrange to feed them in the hotel's 24-hour restaurant. Having been assured by United Way that they would cover the cost of taking care of these individuals, I agreed, and all 150 were transported to the hotel before midnight.
Turning back the clock WAY back, I was born and raised in Peoria, Illinois. Enough said. Couldn't wait to see it in the rear view mirror!
After graduation from high school, I served in the U.S. Army from 1969-1972. During that time, I attended the Defense Language Institute in Washington, D.C., for a year, studying intensive Vietnamese. Realizing that I had a knack for tonal languages, I went on to attend the University of Illinois, where I earned a bachelor's degree in Asian Studies, learning Mandarin Chinese, Thai and Japanese.
In 1979, my family moved from Portland, Maine, to Bangkok, Thailand, where we worked for the Joint Voluntary Agency (JVA), the U.S. Embassy's Refugee Resettlement Program, for three years. It was an incredible experience. Because of its location, Thailand received refugees from Laos, Cambodia and Viet Nam. My wife started a program specifically for the resettlement of unaccompanied minors from the three countries and, because of my language skills, I went to work in the Vietnamese Section.
In 1985, after receiving my MBA at the Middlebury Institute for International Studies in Monterey, Calif., I took a job as the country director of the Pearl S. Buck Foundation's Program in Thailand. The mission of the program was to assist Thai Amerasian children with their education, and most importantly help them stay healthy. A total of 2,500 children were enrolled in the program.
My wife, our three kids and I were lucky to have good friends who were posted to Nepal with the U.S. government. In 1980, we went on a 16-day trek through the Helambu region, with spectacular views of Mt. Everest and its range. Again as a family, in 1995 we spent three weeks traveling through Laos, the birthplace of our two adopted daughters.

Frontier Airlines' Tales of Tails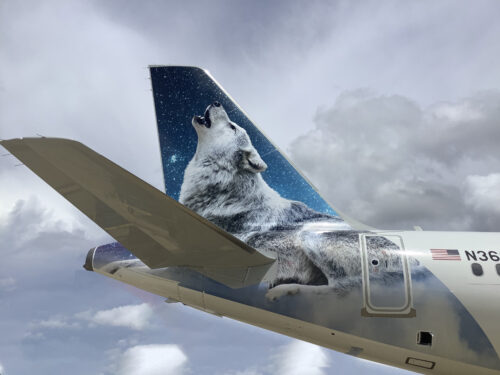 (This is a modified version of a post in the blog "Stuck at the Airport," by Harriett Baskas.)
But a growing menagerie of animals continues to adorn the tails of all Frontier Airlines' aircraft.
There are land animals, such as Clover the Deer Fawn.
Sky animals, such as Captain the Puffin.
Endangered species, such as Hugh the Manatee.
And aquatic animals, such as Shelly the Sea Turtle.

It's fun to spot the animal tails at the airport, but because there are more than 100 aircraft in the Frontier fleet, you might never see them all. And certainly not all in one place.
The site includes a picture of each plane tail and tells a little bit about the featured animal. And – avgeek alert – each animal's webpage includes information about the aircraft as well, including the plane model, registration, seating capacity, engine type, the date of the first flight and the final assembly location.
The airline is planning to add more features to the site, including downloadable coloring pages and activities, a page devoted to retired animals, and photos.
Do you have a favorite Frontier Airlines animal tail?

We are always on the lookout for interesting news about your organization!
E-mail 
ellen@travelersaid.org
with any and all items you would like to be considered for the monthly TAI newsletter.