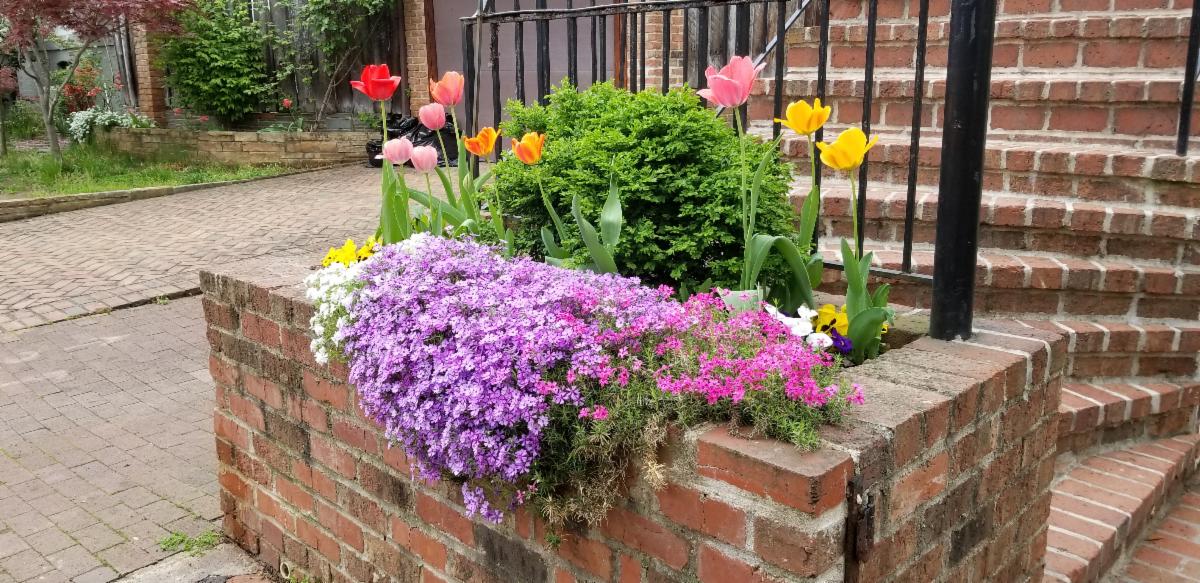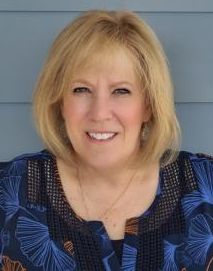 Welcome Springtime!
What a difference a couple of weeks make.
When last I wrote, I was complaining that I hadn't seen any snow in D.C.….and then it got snowy and really cold. Now, I'm happy to be seeing signs of Spring — a signal for renewal and better things to come?
I'm certainly ready for that, and I imagine that all of you are, too.
How do I know that things are looking up? Let me count the ways….
Rates of COVID-19 infections are falling everywhere.
The security fence around TAI's DC office is getting smaller, or at least easier to get through.
Many of our staff, who are considered essential workers, have been able to get their first vaccinations, with some already getting their second.
Flowers are coming up all over.
Passenger traffic is picking up at all TAI airports.
D.C. road traffic is still "Friday-lite."
Airlines are starting to add flights back to their schedules.
Winter weather is fading away.
The best sign of all? More TAI volunteers, who were greatly missed, are returning to work every day.
So, as you wait for Spring to fully arrive, and for this awful pandemic to subside, know that we at TAI appreciate all that you have done and continue to do for your communities, and we hope you are well.
Kathleen Baldwin, TAI President and CEO
Fulfilling Our Mission Amid COVID-19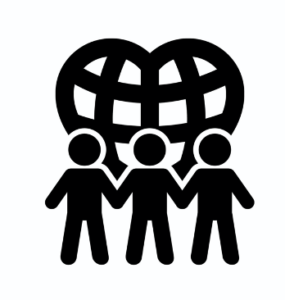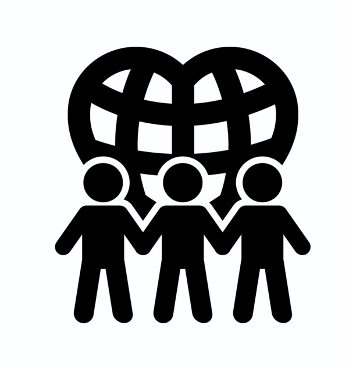 …in the Community
Derek Tucker had always been good at cars – a skill he learned at an early age. But it wasn't until he got out of jail that he started thinking about his talent as a career.
"The older guys told me I had a lot of potential," he said, remembering how he first learned about repairing vehicles. "At the time, I was doing my drug thing and I didn't want to get my hands dirty. But I sat there and watched them and absorbed."
After he came home from jail, he began servicing neighbors' cars from a makeshift repair shop behind his house in Baltimore County, Md. He bought a mechanic's shirt at a flea market because, as he explained, "you can't be charging $200 or $300 in a hoodie." But when a family member told him about a local program called Vehicles for Change, which offers formerly incarcerated people training, an internship and connections to auto-repair jobs, he wanted in. Catholic Charities Baltimore offered him that chance.
In 2019, Tucker began a three-month Automotive Service Excellence program that Catholic Charities co-hosts with Vehicles for Change. A handful of graduates of that training are invited to stay on to become certified ASE master technicians. Tucker was one of those selected.
Kevin Creamer, Catholic Charities' program manager for workforce development, said Tucker's drive stood out as the training progressed.
"He's a tremendous talent. He's been passionate about cars and working in that space for much of his life," Creamer said. "He was looking for an opportunity to do what he loves, with some support. It was really just a matter of moving stuff out of his way so he could do this."
Kevin Creamer, Catholic Charities' program manager for workforce development, said Tucker's drive stood out as the training progressed.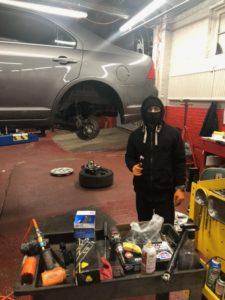 "He's a tremendous talent. He's been passionate about cars and working in that space for much of his life," Creamer said. "He was looking for an opportunity to do what he loves, with some support. It was really just a matter of moving stuff out of his way so he could do this."
Vehicles for Change hired Tucker in a full-time position at the Full Circle Auto Repair and Training Center in Baltimore City, a job that has included mentoring new trainees, drumming up business and fixing cars. Tucker said he was honored to hear that managers had asked around to decide who would be best for the position, and his name had come up repeatedly.
"I didn't know I was putting out that kind of energy," Derek said. "I was basically trying to do my thing. I guess God had another plan for me."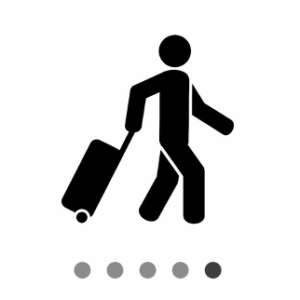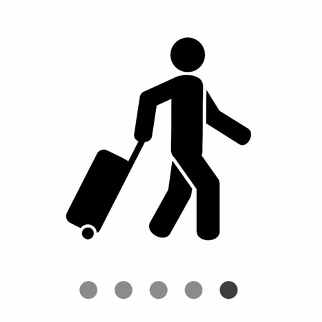 …to Assist Travelers
One of many examples demonstrating the level of commitment and sense of caring ingrained in all TAI volunteers involves Annmarie Emmet, a volunteer who was working in the baggage claim area at Reagan Washington National Airport recently when she spied a young mother struggling with both luggage and children.
Annmarie, who is 90 years young, asked the woman how she could best be of assistance. The passenger, who was being picked up by her husband, understood that she needed to get to the third floor, but she was overwhelmed with the task. Annmarie took her to the elevator, rode with her to Floor 3 and then walked with the entire entourage out to the roadway curb, where dad was waiting. The weary but grateful mom turned to Annmarie and sighed, "I wish there were one of you in every airport."

From Pains to Gains: Takeaways from TAI's Pandemic Webinar
Travelers Aid International's third webinar presentation, "Thriving During the Pandemic," took place on Feb. 18. Expert panelists Marcy Roke, Periann Pulliam and Donna Paramore — Travelers Aid representatives from San Diego, Oklahoma City and New Orleans, respectively — shared lessons learned, skills gained and challenges faced during the pandemic.
All three panelists agreed that key elements in surviving the pandemic were maintaining and enhancing communication, building partnerships, expanding the use of technology and being flexible. "You have to have a Plan A, a Plan B and a Plan C," said Donna Paramore. It's also important to "look beyond what you've already done," adds Donna, "and do not fear the unknown," such as applying for loans or grants.
Marcy Roke was in unfamiliar territory when she was "flying by the seat of my pants," confronted with the "overwhelming events" surrounding her when the pandemic hit in early March and she was in the middle of moving the Travelers Aid office. She advised listeners to take advantage of existing educational opportunities such as webinars — "there's a webinar for everything" — not only to learn how to do something you've never done before but to make you feel "connected" and less isolated.
Periann Pulliam shut down the volunteer operation at Upward Transitions, the organization she now leads, on March 15, and "we had two hours to change the way we did our business." Other challenges she cited were the difficulty in connecting with donors and having to cancel fundraising events, although she did note that "we have been able to get new donors who we've been pursuing for years." And, like many other organizations, she has weekly Zoom calls with her staff to connect both professionally and personally.
TAI plans to hold its fourth webinar coming up in April. Stay tuned!

Board Spotlight – David Sinski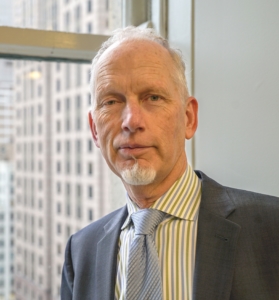 "I am drawn to work that supports individuals realizing their full potential. Too often, systemic barriers, long-rooted inequities —including deep-seated racism — and the false belief in our own limitations conspire to hold people back. I favor any work that removes those barriers so that together we can create a thriving society for all."
David Sinski is first vice chair of the Travelers Aid International Board of Directors and vice president of Heartland Alliance in Chicago. He also oversees Heartland Human Care Services (HHCS), a division committed to ending poverty through a wide range of programs aimed at ensuring safety, stability and pathways for long-term success to over 500,000 persons each year, primarily in Illinois and Michigan.With Heartland for eight years, David has been on the TAI Board for the past four years.
Travelers Aid Chicago was Heartland Alliance's first program, starting in 1888, and continues in the tradition of serving migrating populations through work with refugees, immigrants and asylum seekers, and through the "great work" of TAC at O'Hare International Airport.
"One of my prior jobs that really impacts my work today was at Mujeres Latinas En Acción, where I held various roles across 10 years and was immersed in women's issues, feminism and the immigrant experience in the United States. Mujeres was founded in Chicago by vocal, courageous Latina women to uphold women's rights and human rights. It has served as a fabulous foundation for my career ever since."
David enjoys reading and recently started running, hoping to complete his seventh Chicago Marathon this year. "I grew up hating running. I was the slowest kid in my class and just didn't feel like it was my thing. I am still slow but have discovered the wonderful peace and centeredness that running offers me. It reminds me every day to not be afraid to try new things."
A few years ago, David and his husband joined a group of LGBTQ+ individuals on a trip to Israel to understand human rights in the Middle East and to celebrate the advances that Israel has made to support LGBTQ+ folks. "It was an amazing trip and we were exposed to many Israeli accomplishments, as well as many challenging issues. In addition to getting a profound education, we fell in love with Jerusalem and took some extra time to visit Jordan, where we were amazed by the beauty, history and splendor of Petra."
David grew up in Milwaukee, the youngest of five. His father was a police officer and his mom worked as a nurse, part time. They scheduled their work hours to ensure one of them was always home with the children. "That meant that my dad had to become a great chef to satisfy five hungry kids every day. I still hope to be as good with the grill as he was."

Winter Walk 2021 Proceeds to Help FamilyAid Boston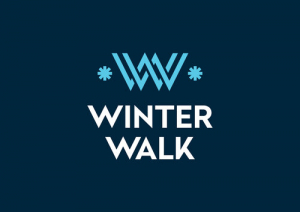 FamilyAid Boston is one of 10 partner organizations that will receive proceeds from Winter Walk 2021, Boston's signature annual event that raises awareness and funds for those who are confronting homelessness, to aid in their mission to support and care for those who are homeless.
Although the event traditionally has been held in downtown Boston, 2021 
Winter Walk
 patrons took the two-mile walk outside between Jan. 29 and Feb. 14, either individually, as a family or as part of a small team. The group gathered online on Feb. 7 for a special presentation with stories shared from some of Greater Boston's homeless community, including FamilyAid Boston clients.
"The Winter Walk is a chance to join with not only FamilyAid Boston staff, supporters, board members and friends, but also the many others working on or experiencing homelessness," says Charlie Deknatel, FamilyAid Boston board member and three-time Winter Walk participant.
The Winter Walk brings together compassionate people from all walks of life during the coldest month of the year. The goal is to create an immersive experience that cultivates empathy, respect and advocacy surrounding homelessness.
FAB walks to represent the 2,600 children and parents in their care, and their mission to house those in need while empowering parents to build brighter futures for their children.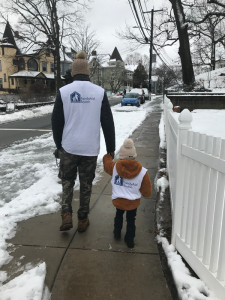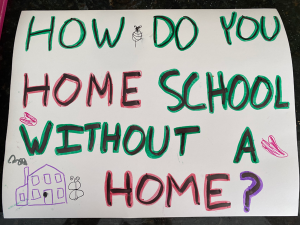 Volunteer Spotlight – Kay Yazvac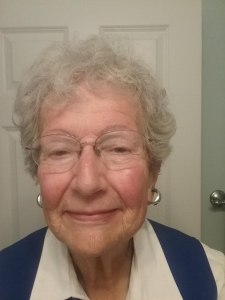 "My plan for the rest of my life is helping others."
And that's exactly what Kay Yazvac has been doing for the past two years as a Travelers Aid volunteer at Bradley International Airport in Windsor Locks, Conn.
"When my fabulous husband of 53 years passed away, I decided to do volunteer work of my choice, like taking passenger Mary, who was very nervous, to the ticket counter for her first flight."
Kay was born in Cedar Rapids, Iowa, and earned a bachelor's degree in business at the University of Iowa. Her first job was as chief clerk at the Federal Court of Iowa, handling bankruptcies and immigration matters. She "retired" in 1972 to raise twin boys, moved to Chicago in 1979 and then to Connecticut in 1984. In 1989, and for the next 27 years, she served as office manager for a dental practice before retiring for good at age 79.
Kay also volunteers at her church, driving people when needed and assisting at her senior condo association. "I have tons of lady friends whom I love dearly, so keeping in touch during the pandemic by conversing and playing computer Bridge has been so important. In the meantime, I enjoy visits from my son Peter. My son Tom is deceased, but he gave me three wonderful grand- children, now teenagers, whom I visit often."

TA Australia — Coming Out of Lockdown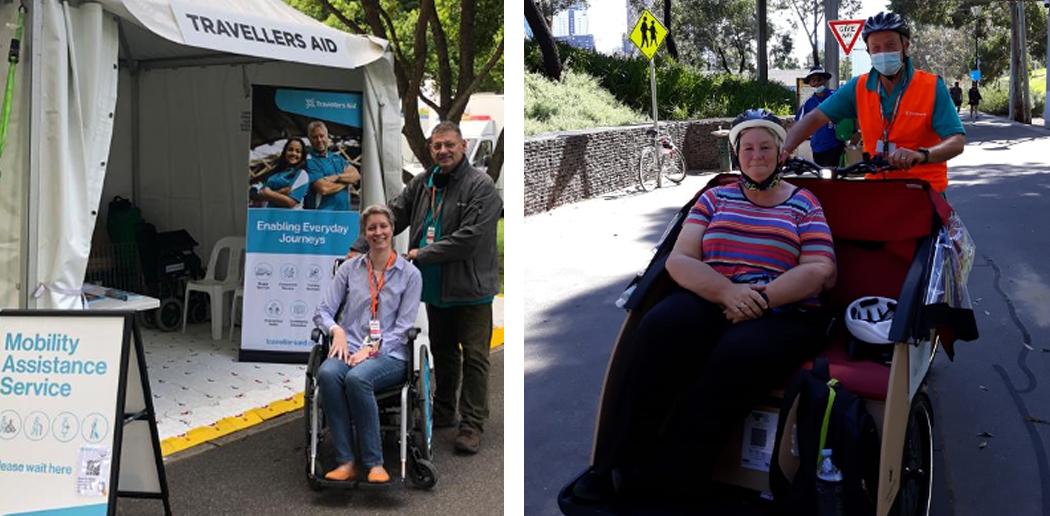 Travellers Aid CEO Elias Lebbos and Service Innovation Manager Sara McDonald at Moomba (left); Volunteer Rod providing assistance at Australian Open with new triobike
The city of Melbourne in Australia spent nearly four months in lockdown during 2020, and Travellers Aid's volunteer programs were suspended. In February and March 2021, TA officials are excited to gradually bring back "our wonderful volunteers" and engage them in "pop-up services" at events to ensure people with mobility challenges feel confident to re-connect, re-engage and participate.
In February 2021, TA connected people with mobility challenges to the Australian Open as part of its partnership with Yarra Trams, the local tram network provider. This was also an opportunity to try out TA's newest addition: a sturdy, environmentally friendly and fully accessible triobike for connection assistance.
Melbourne has held an autumn carnival in March for more than 60 years – Moomba, the largest community festival in Australia – and this year Travellers Aid was part of the festivities, providing access and inclusion at a fun and entertaining family event.

Staff Spotlight – Danielle Zavala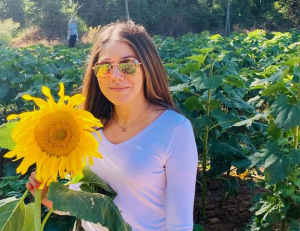 Danielle is the volunteer coordinator for Travelers Aid at Newark Liberty International Airport. She joined the staff in June 2019 and has enjoyed watching the program grow.
Danielle loves recruiting and getting to know the volunteers, collaborating with her fellow staff members, and helping passengers throughout the airport.
A graduate of Penn State University with a B.A. in Communications, Danielle went on to work in event planning for a nonprofit organization. Although she enjoyed the work, she preferred to help people on a more direct and personal level. "Travelers Aid was the perfect fit and continues to be a rewarding workplace," Danielle says. She currently is pursuing her Masters' degree in school counseling and studying for a real estate license.
Born and raised in Perth Amboy, N.J., Danielle enjoys baking, cooking, hot yoga, going to concerts and mastering difficult jigsaw puzzles. She also loves to travel, having been to Anguilla, St. Martin, Costa Rica, Mexico and Montreal. She is looking forward to planning her next trip!

Shop 'Til You Drop at TAI's On-Line Merchandise Store!

WOOT! WOOT! Travelers Aid International's long-awaited on-line merchandise shop, called the Sideline Store, is open and ready to fulfill all your wishes for TAI swag!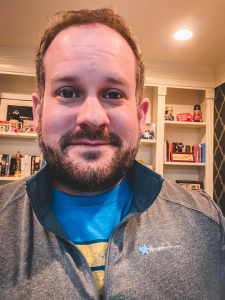 TAI Board Member Scott Elmore models his new purchase from the Sideline Store.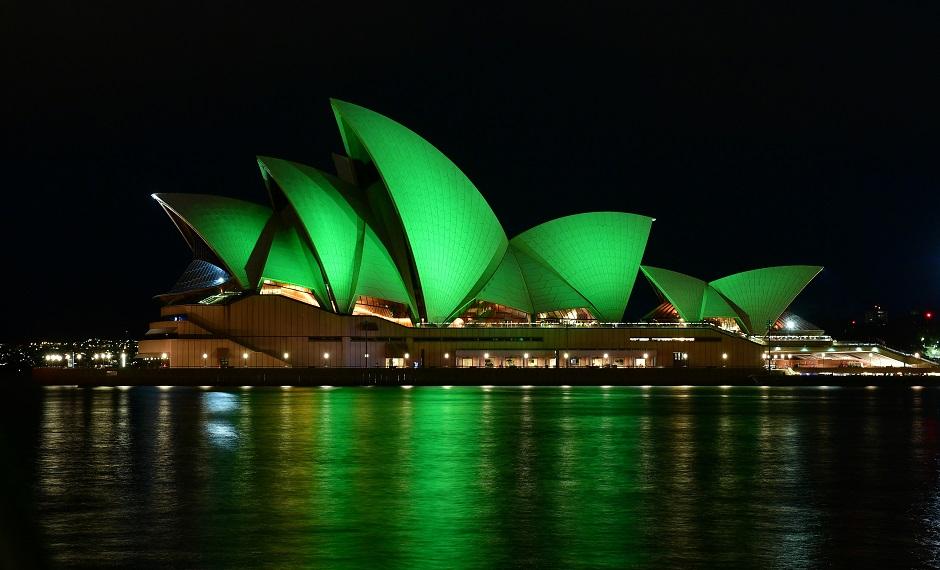 (This is a modified version of a post in the blog "Stuck at the Airport," by Harriett Baskas.)
Some airports, attractions, hotels, bridges, castles and iconic buildings are already shining green for Tourism Ireland's annual Global Greening event.
The event began 11 years ago in Australia when the iconic opera house in Sydney (above) was illuminated on March 17, 2010. Now the list of 
participating Global Greening sites
 is incredibly long and includes returning classics such as the Leaning Tower of Pisa, Niagara Falls, Victoria Falls, the 'Welcome' sign in Las Vegas, the London Eye, the Sky Tower in Auckland and the Prince's Palace of Monaco.

We are always on the lookout for interesting news about your organization!
E-mail 
ellen@travelersaid.org
with any and all items you would like to be considered for the monthly TAI newsletter.