TAI Annual Conference – Community is Everything
Registration is now open for Travelers Aid International's long-awaited annual conference, coming up on Sept. 22-24, 2021, at the TWA Hotel on the grounds of New York's JFK International Airport.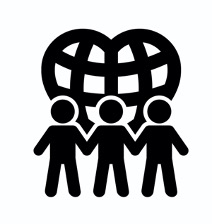 …in the Community
Paul was working in a liquor store in Jessup, Maryland, when he experienced homelessness for the first time. He found his way to Sarah's House, a supportive housing program run by the Catholic Charities of Baltimore located in Anne Arundel County. He stayed as long as he could, but after moving out, he eventually found himself again without a home.

Living in an abandoned building in Glen Burnie, Paul developed pneumonia in 2019, and doctors found that he needed open-heart surgery for a valve replacement. "He got sick from living in those conditions," said Teresa Mack, a case manager at the Weinberg Housing and Resource Center, the Catholic Charities shelter where Paul came after his surgery.
When Paul arrived, Teresa began the step-by-step process of determining what supports he might need. Like many people experiencing homelessness, for example, he lacked identification, so Teresa helped him assemble documents — a Social Security card, a birth certificate, a Maryland identification card — that allowed him to apply for benefits.
In April 2020, the Weinberg Housing and Resource Center closed because of the pandemic, and residents moved into local hotels. That's where Paul spent the next 14 months before finding his new apartment at Basilica Place, a Catholic Charities Senior Community in downtown Baltimore, in late May last year.
"I'll live there as long as they'll have me," the 64-year-old Paul said of the rent-assisted apartments. "It's like a palace."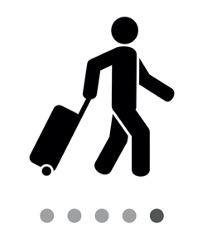 …to Assist Travelers
Travelers Aid of Honolulu received an emergency call the day before Thanksgiving from a grandmother who needed help for her granddaughter Jennifer, who was stranded in Hawaii and had no money.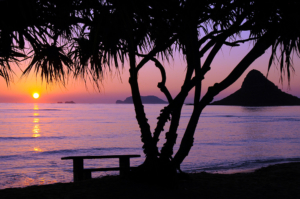 TA staff contacted the granddaughter on her cell phone and learned that she was sleeping on the beach in a dangerous area. The grandmother bought her a ticket back home to North Carolina, and staff took Jennifer clothes and food, provided moral support and made sure she got to the airport and safely on her flight. Years later, the grandmother called to say that Jennifer is now working as a nurse's aide and is happily married, and that the family will never forget the help TA provided.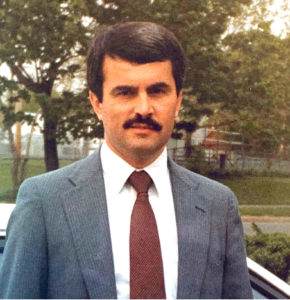 Reagan Washington National Airport TA volunteer Robert Jordan passed away on May 30 this year. Bob served for 25 years as a regular Friday afternoon volunteer at DCA. Born in Syracuse, N.Y., he was director of automated services and development staff at the Office of the Federal Register for 20 years.
"Bob always went the extra mile in helping our passengers, often walking alongside people to the ticket counter and to the Metro station," said Leanne Omland, TA program manager at DCA. "Bob continued his gracious and caring assistance even as his own ability to walk became increasingly difficult. He was a loyal and dedicated team member who will be very much missed."
Conference 'Flight' Details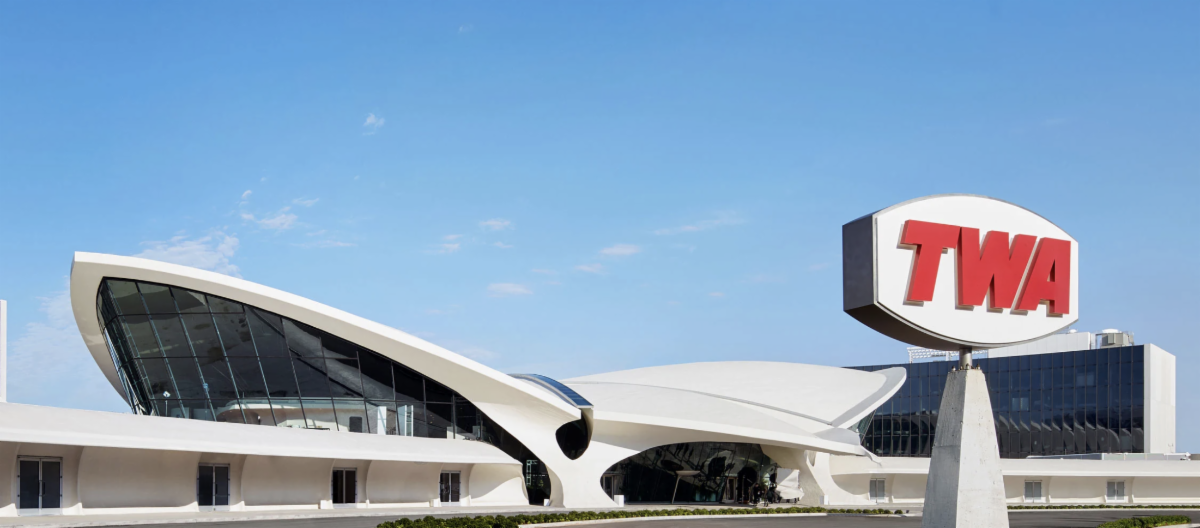 This September, attendees will once again be able to network with and learn from their colleagues across the country at TAI's 2021 Annual Conference!
'Prepare for Take-off!'
The event will begin with an opening reception at 6 p.m. on Wednesday, Sept. 22, followed by a sit-down dinner featuring a presentation by Dr. Eric Cimino, assistant professor of history and political science at Molloy College in New York. During the next two days, the conference agenda will feature general sessions and breakout groups, addressing a plethora of important topics ranging from uplifting non-profits to the power of resiliency to best practices/recruiting and retaining volunteers.
Get your 60's Groove On!
We encourage you to dress the part of the 1960's theme of the TWA Hotel for the opening on Wednesday night with a costume — or just an accessory! — from that era. Bellbottoms? Tie-dyed shirt? Big earrings? Go-go boots? Costumes are optional, but we will have some extra accessories on hand in case you decide to join in on the fun and possibly win a prize!
'Coming in For a Landing!'
The conference will end on the afternoon of Friday, September 24, with a raffle promising a host of exciting prizes. Be sure to plan your schedule accordingly to be there and possibly win free airline tickets, among other goodies!
'Connecting' to Manhattan
Please note that the TWA Hotel conference headquarters is some distance away from downtown Manhattan, so please plan accordingly if you plan to venture into The Big Apple!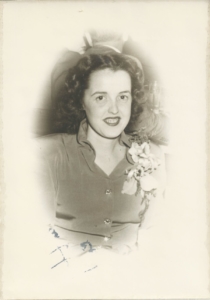 (BDL volunteer Helen Kehoe Fry shared this very special story about her mother.)
Ever since I was a little girl, my mother, Margaret Roach Kehoe, has talked about her time volunteering with Travelers Aid during WWII. She truly enjoyed helping people and did so in various ways throughout her life, but her Travelers Aid experience was the one she spoke of most often.
She was born in Chicago in 1922 and began working downtown when she was 18. When she was 19 and working for the Army Corps of Engineers, the United States joined WWII and my mother wanted to do something to help. So, she volunteered with Travelers Aid in the Northwestern Train Station in downtown Chicago, from early 1942 until 1945.
Her main role was to help families from various parts of the country who were passing through Chicago to take their sons to boot camp, or spouses and children who were headed to live near the camps in Wisconsin, South Dakota and elsewhere in the Midwest where their husbands/fathers were stationed for training. My mother said these were usually people from farms and small towns who had never been in a city as big as Chicago. They needed a place to rest or directions to a connecting rail station in the city.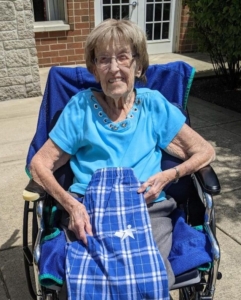 Northwestern Train Station was near Skid Row at that time, and mom took great care to tell these people where to walk, and where not to, and to give them very clear directions.
When I retired in 2017, I was looking for somewhere to volunteer. I saw an ad seeking Travelers Aid volunteers at Bradley International Airport (in Connecticut), and all of Mom's stories came back to me. I signed up to volunteer and have found the experience just as rewarding as my mother had many years ago.
I recently won a raffle at Travelers Aid at Bradley and received a pair of Travelers Aid pajama bottoms. I asked for them in my mother's size and gave them to her as part of her 99th birthday celebration. She was thrilled! We have both been blessed to be part of the Travelers Aid family.
IAD Holds First Volunteer Group Training Since February 2019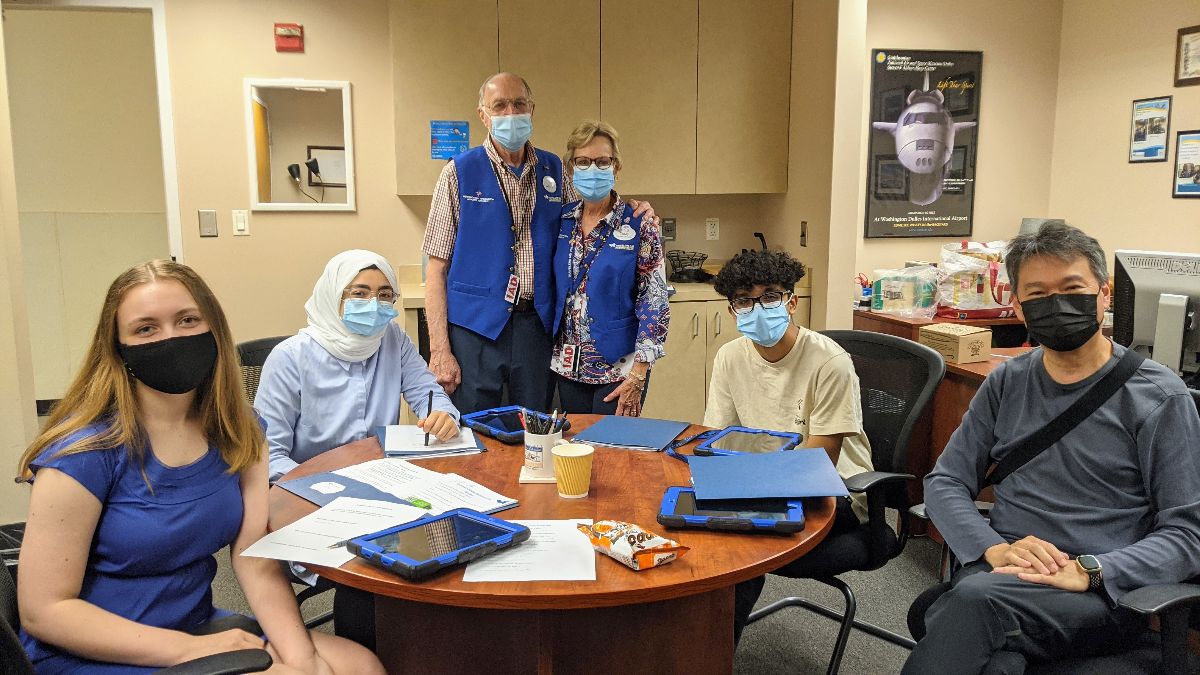 Four new Travelers Aid volunteers at Washington Dulles began training in June, the first group orientation held at the airport since February 2019. Peter Lauten, TA program manager at IAD, said, "Group orientation allows for a more collaborative and engaging training environment for our volunteers, so this was a big step toward sustainable growth for our program moving forward." Group orientations will be held monthly going forward. Staff continues to hold monthly virtual trainings, open to all volunteers, to ease with the transition back to service for those returning, and to provide timely updates.
In other Dulles news, TA staff has created a group designated as "the Dulles Helping Hands," comprised of volunteers who are willing to help handle an increasing number of special assistance requests being called into the TA office. In June, volunteers completed three pre-arranged meet and greets for Dulles passengers, free of charge: an at-risk youth transiting through Dulles to California for foster care; a mother with three small children and many bags, and connection assistance for a female teenager.
Takeaways From Human Trafficking 101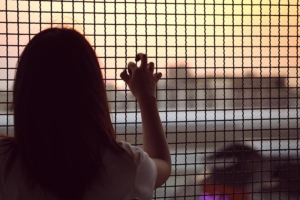 Travelers Aid International held its fifth in a series of educational webinars on June 17, this one addressing human trafficking. Presenting this in-depth training was Summar Ghia, director of Chicago's Heartland Human Care Services' Freedom from Trafficking Program since December 2019.
Kumar outlined the five objectives of the training — understanding the elements of human trafficking; shifting the narrative beyond stereotypes of who may be trafficked and who traffics others; identifying intersections with travel;
exploring and identifying possible signs in interactions with travelers, and connecting survivors safely to resources.
Also explored were some of the myths and misconceptions about human trafficking, fostered in large part by the media's portrayal of the crime. These included that: human trafficking must involve some sort of movement, travel or transportation; sex trafficking is the only form of trafficking; survivors of human trafficking are always immigrants from other countries; there must be elements of physical restraint or bondage when identifying a situation of human trafficking, and survivors of human trafficking will immediately ask for help or self identify as a victim of a crime.
Kumar's complete presentation is available on the TAI website by clicking on the
Newsroom
tab.
CC Gainesville Celebrates Christmas in July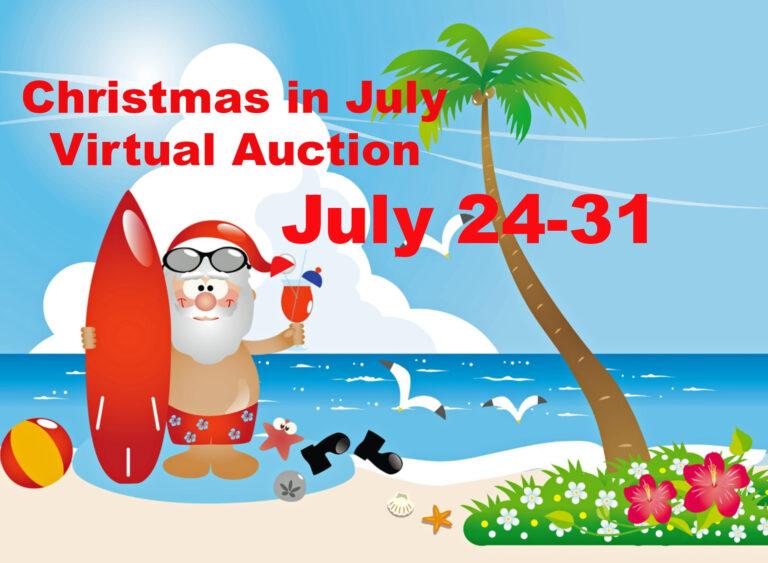 While Mr. S. Claus is currently vacationing in Florida, he has authorized the Catholic Charities of Gainesville to auction off some of his favorite things. The organization is working with his team to create fabulous gift ideas that are sure to make your summer sizzle! The auction opens on July 24 at 10 a.m. and will close promptly at 8 p.m. on Saturday, July 31. For more details, click here.
Staff Spotlight – Christine Carolan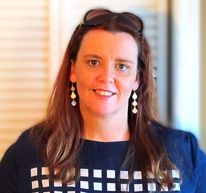 "I was born in the small town of Drogheda on the northeast coast of Ireland. I have a pretty big family there who love to come visit the U.S. every chance they get. My nieces have already planned their first visit to Pennsylvania as soon as the travel restrictions are lifted!"
Irish native Christine Carolan is the new program manager at the Travelers Aid program at Philadelphia International Airport, which started up only two months ago. She comes to Philadelphia after a 16+-year career at Hope Atlanta in Georgia, where she worked in operations and staff support — where there were certainly some perks involved!
"During my time in Atlanta, I got to do a few celebrity meet and greets at the airport. I was called by a TV show and asked to meet their 'secret client' at his arriving flight, and the name they gave me was Sy Sperling. I googled the name and found out that he was the president of the Hair Club for Men. The arriving passenger was actually John Stamos!"
Christine likely does not have a whole lot of free time these days with the demands of her new position, but she loves to cook — curry, enchiladas and soups are among her favorites, and "reading is my way to unwind; a good book in a quiet room is the best way to end the day!"
And yet another example of her excellent judgment is that she is "slightly obsessed with dogs. Here at the Philadelphia Airport, the Wagging Tails Brigade check in for their shift in my office — just another benefit of the job!"
Christine's favorite place to vacation is Mons, Belgium. "It gives me the opportunity to practice my French, and I love the Grand Place, a large cobblestone square dotted with cafes. It's a short drive to Paris and not far from Ireland!"
Growing up, among Christine's favorite pasttimes were Irish dancing, playing piano and taking part in the "local pantomimes" (which are musical comedy stage productions designed for family entertainment). "I love musicals and I love to sing, but I am really bad at it! My favorite musical is West Side Story."
Christine is looking forward to the Steven Spielberg remake of the original film, scheduled to be in U.S. theaters Dec. 10. "I am excited to see Speilberg's modern-day twist on the Sharks and the Jetts and to see what updates Tony Kusher makes to the script. And to have Rita Moreno back will make it extra special for me and other fans of the movie!"
Karla Stinnett Joins Upward Transitions Staff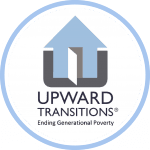 Karla Stinnett joined the Upward Transitions team in June as director of development and public relations to support the marketing, fundraising and public relations efforts for the organization.
In her new position, Karla is responsible for championing the sharing of the Upward Transition story with the community, as well as strategically raising funds to support the mission of the organization. Karla has more than 20 years of experience in both the corporate and non-profit business sectors. She earned a bachelor's degree in public relations from the University of Central Oklahoma.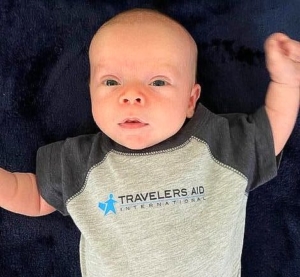 Travelers Aid staff at JFK wanted to congratulate "super duper" volunteer Valeria on the arrival of her new grandson, Baby Nolan, by presenting her with this onesie from the TAI store!

We are always on the lookout for interesting news about your organization!
E-mail 
ellen@travelersaid.org
with any and all items you would like to be considered for the monthly TAI newsletter.