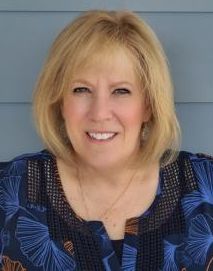 TWA, Here We Come!
Finally, we can say with confidence that the TAI Annual Conference is really happening. I promise! Originally scheduled for September 2020, we've had to change the date twice. Who'd have ever thought that would be necessary? Certainly not me. Now, as things are rapidly improving in all our locations, we continue to move forward with conference planning…since we never actually stopped, despite the postponements
SO….beginning on the evening of Wednesday, September 22, through Friday, September 24, 2021, the conference will be held at the TWA Hotel on the grounds of JFK International Airport. Please keep an eye out for updated information about start times, conference sessions and scholarship information. I, for one, have really missed seeing everyone in person, so I'm very much looking forward to being in the same room with all of you.
If you have any thoughts about what you'd like to see covered at the conference, feel free to contact one of the conference committee members: Jane Mrosko, Patti Englert, Edward Powers, Ellen Horton, Mollie Hester, Floyd Davis, David Sinski, Chet Sobotka, Marcy Roke, Periann Pulliam, Jason Miller, Jeff Smythe, Jessica Rich and Kathleen Baldwin. We'd welcome your thoughts and suggestions.
Kathleen Baldwin, TAI President and CEO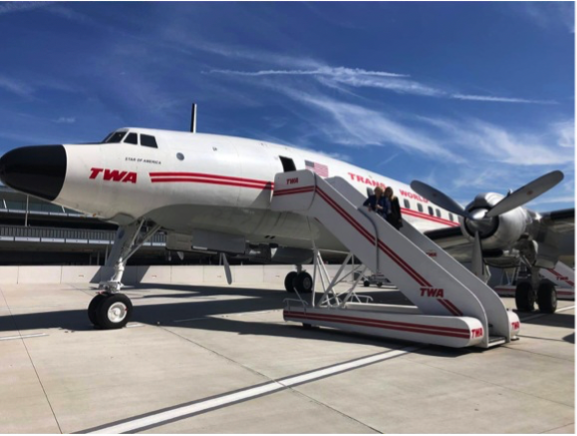 Fulfilling Our Mission Amid COVID-19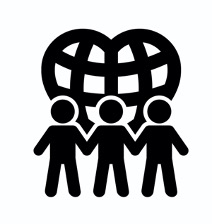 …in the Community
Paula grew up in Mill Valley, California.A single, hard- working mother of two young children, Paula bravely left an abusive relationship to live a life free of violence. Despite her best efforts to handle the costs of food, rent, childcare and medical expenses, she periodically needed help. Volunteers from the St. Vincent de Paul Society of Marin County, in California, were there for this struggling family, stepping up when needed to help with small amounts to cover the costs of food, rent, back- to-school supplies and medical expenses when Paula fell short. Paula called St. Vincent's volunteers her "angels."
One terrible day, law enforcement officers advised Paula that her abuser was being released from prison. Through family members, she knew that he planned to come looking for her. That's when Paula's survival instinct kicked in. She quickly found a new apartment in another state where she could transfer her customer service job. Desperation set in when she faced two obstacles to her escape: she could not afford all her moving costs, and access to her new apartment was delayed for maintenance repairs. That is when she called her "angels" at the St. Vincent de Paul Society, her voice shaking with fear.
Immediately, our volunteers knew that this was a race against the clock. The clock started ticking on a Saturday when the moving and storage contractor threatened exorbitant daily fees for any delays in payment. Our volunteers quickly negotiated an extra 24 hours for payment with the moving company and also called her new landlord, advocating for her to move in before the repairs were complete. The landlord agreed. Then, our St. Vincent de Paul Society volunteers got busy raising the $4,000 Paula would need by Tuesday morning. Our volunteers successfully raised the funds in only three days so Paula and her children could quickly leave town.
Thankfully, Paula and her children escaped this dangerous situation and happily moved into their new home far away. She was so relieved when she tucked her children safely into bed, she quietly whispered prayers of gratitude to all her "angels" from St. Vincent's.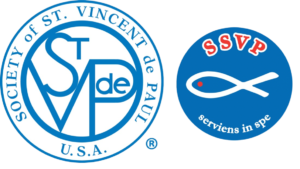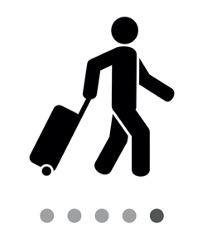 …to Assist Travelers
It was a team effort by TA volunteers at Washington Dulles International Airport to assist a traveler who needed to get to Casablanca immediately due to the death of her mother. She wanted to buy a ticket for a flight on Royal Air Maroc that night, but the TA team knew that no one would be at the airline's desk until about 5 p.m.
The passenger did not have a smart phone, so volunteers used a TA phone to talk to an airline representative and, after some complications, a ticket was able to be purchased. The woman, understandably distraught and confused due to the circumstances, did not realize that she also would need a PCR test, since her previous test had "expired," and to fill out a required Moroccan health form. One volunteer accompanied her to the PCR testing station and another provided her with a printed copy of the health form. The passenger thanked the whole team profusely for their efforts, which took up nearly four hours!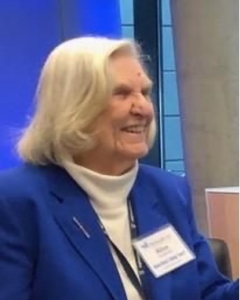 Alice Longstreet, 93, a TAI volunteer for four years at Bradley International Airport (BDL) in Connecticut, passed away at her home on May 21. Yes, Alice STARTED volunteering at BDL at the age of 89! Her fellow volunteers described her as caring and strong-willed. TAI Program Manager Mary Kate Doherty shared that Alice declined getting a handicap sticker and would park in the farthest corner of the garage so she could get her steps in for the day. "She was young at heart and full of spirit and will be missed by all who had the pleasure of working with her," Mary Kate said.

Upward Transitions Event Raises $90,000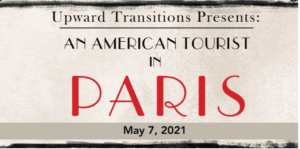 Upward Transitions hosted a live-streamed fundraising event last month, raising $90,000 to support the mission of ending generational poverty in Oklahoma County.
The one-hour virtual
event, titled "An American Tourist in Paris," included an online auction, an opportunity to learn more about the mission of Upward Transitions, a wine pull, client and supporter stories, local musicians, and the presentation of the "Inspiring Hope" award to Oklahoma City Mayor David Holt.
"American Tourist is our premier, annual fundraiser to support our mission," said Periann Pulliam, Upward Transitions CEO. "This year, we weren't sure what to expect hosting an online event instead of an in-person event, as we have hosted in the past. We were very excited to exceed our fundraising goals! We are truly grateful to all our supporters for allowing us to continue this vital work in our community, especially during this unprecedented time of the pandemic recovery."
The support of this fundraiser allows Upward Transitions to fulfill its mission of serving those who are homeless or on the verge of becoming homeless by providing case management and stabilizing resources to meet basic social needs. Upward Transitions equips families and individuals with the ability to become self-sufficient and contribute back to their community.
In other Upward Transitions news, the Oklahoma City Airport Trust renewed its service agreement with the organization and approved the 2021-2022 annual airport budget of $72,714 for the July 1, 2021-June 30, 2022 period.
Board Spotlight – David Fleming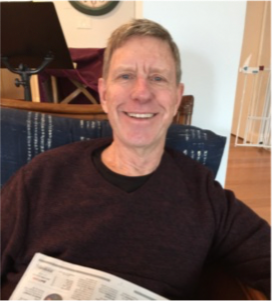 I became a volunteer at Travelers Aid Dulles in October 2008, not long after my retirement from The Gannett Company, where I was general counsel for Gannett Broadcasting. At that time, the company owned 23 television stations throughout the U.S.
I have long held an interest in organizations that assist those with mental and physical disablilities. I have a 38-year-old daughter with Down Syndrome who has opened the eyes of both me and my wife to the richness of life in so many ways. She lives in a group residence in Reston, Va., not far from our home, so we are able to see her regularly.
Our other daughter is 43, living in Los Angeles with our two granddaughters, ages 9 and 11. We are quite familiar with United's operation at Dulles as we try to travel to L.A. as often as possible, although COVID has obviously halted those trips for the past 18 months. We are excited that the skies are open again!
I grew up in Pittsburgh, and although my family has scattered far and wide, I retain my connection as a Pittsburgh Steeler season ticketholder. My father originally bought the seats in 1957 and they have been in the family ever since – so I've experienced the good, the bad and the ugly of their franchise history!
I've been fortunate to travel widely and live in different places, all of which hold a special place in my life.
From Pittsburgh, I settled in Washington, D.C., from 1970 until 1987, when I relocated to Wichita, Kan., for a job opportunity. My girls were 8 and 3 at the time and, as you might expect, my wife was less than enthused about uprooting the family and moving to the heartland. The 10 years we lived there, however, were outstanding, and she now says, "I cried when we left the Washington area, but I cried even harder when we left Kansas!"
I enjoy the outdoors, and living in Reston offers plenty of opportunities to indulge my hobbies of biking, hiking, tennis and generally enjoying being outside.
I have had many memorable opportunities during my volunteer service at Dulles and it has provided me with years of satisfaction of helping others, especially when working in the international concourses. Passengers' appreciation for the seemingly slightest assist — Where's the bathroom? The nearest Starbucks? — is very gratifying.

FamilyAid Boston Goes Platinum!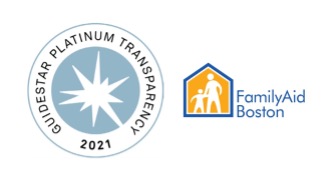 FamilyAid Boston recently received a "Platinum" rating from GuideStar, the world's largest source of nonprofit information. The rating — the highest level of recognition offered by the organization — is a result of FamilyAid's sector- best outcomes in assisting an increasing number of homeless children and families with housing and support.
GuideStar publishes extensive data on more than 2.5 million charities to help donors learn and rate charities based on the their success in solving some of the world's greatest social challenges.
To achieve its Platinum standing, FamilyAid provided GuideStar with extensive information, including external evaluations, in-depth financial information and audits, and substantive, tested outcomes in its progress to reduce child and family homelessness.
"FamilyAid is committed to transparency and providing supporters with the information they need to make their philanthropic decisions," said FamilyAid Boston President Larry Seamans. "We're thrilled with GuideStar's endorsement and hope that supporters continue to invest in our innovative plans to build better futures for homeless families."
In addition to earning the 2021 Platinum GuideStar Profile Seal of Transparency, FamilyAid earned Charity Navigator's 2020 100 out of 100 Encompass rating, its highest, for being a trusted and transparent organization. Charity Navigator is a philanthropic assessment organization that annually evaluates thousands of U.S. charities.
Crisis Center of Tampa Bay: Thank You, Wish Farms!
The Crisis Center of Tampa Bay has been chosen as one of the beneficiaries of the inaugural fund-raising event of the Wish Farms Family Foundation, a donation that ended up totaling more than $100,000.
Wish Farms, an international grower and shipper of berries based in Plant City, Fla., moved into its new headquarters building this spring, raising the funds at an inaugural charity concert event to commemorate the occasion.
The Crisis Center of Tampa Bay "brings help, hope and healing to people facing serious life challenges or trauma," Wish Farms said in a statement. "We are so excited to have the opportunity to support such an incredible and deserving organization in our community."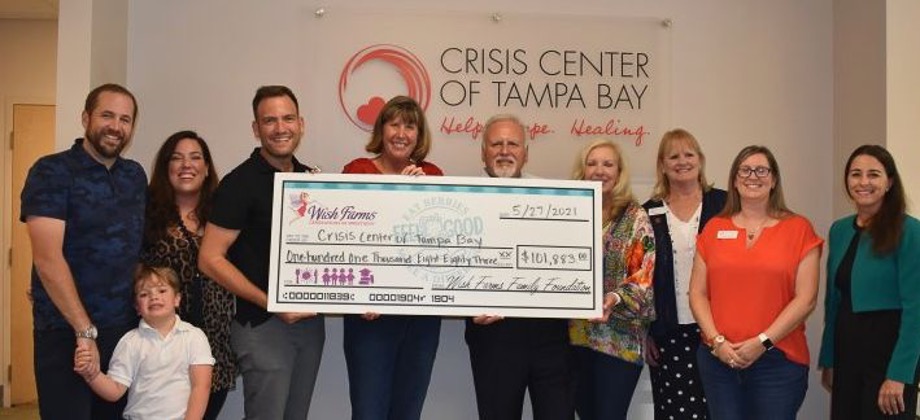 Race to End Human Trafficking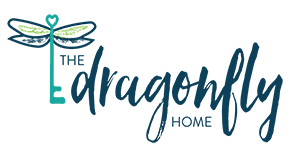 The Dragonfly Home, an organization dedicated to providing the highest standard of care for human trafficking survivors throughout the state of Oklahoma, will hold its annual Race to End Human Trafficking in July, but this year it will be a virtual event. You can register and run your race any time, anywhere in the world by July 31 and make a mark against human trafficking.
For runners, this is a good way to make up for the races you may have signed up for in 2020 that were canceled due to COVID-19, although this isn't an officially timed race. For non-runners, you can complete the race however you want: walk, bicycle, inline skate, or get creative. Any way you do it, it IS for a great cause!
Staff Spotlight – Manon Carle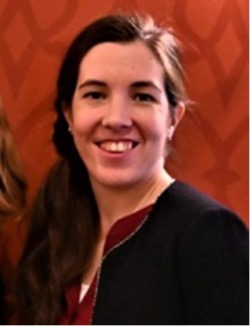 Manon Carle is the volunteer coordinator for Travelers Aid at Reagan Washington National Airport, a far cry from her childhood "dream job" of becoming a flight attendant — "thankfully something I never became, for the passengers' sake!"
But she surely enjoys being involved in the aviation sector and in a non-traditional work environment that allows her to meet a wide variety of people. She has also worked and volunteered with Non-Governmental Organizations (NGOs) in multiple countries.
Manon also enjoys traveling, understandable since she has lived in seven countries: France, the U.K., Sweden, Vietnam, Cambodia, Japan and the U.S. Other favorite countries she has visited include Iceland, Ireland, Italy, Peru and South Korea. "There are many more places I need to see — and plan to after the pandemic is over!"
Her love of travel started at an early age. "When I was in the third grade, my parents took my siblings and I on a four-month motorhome trip across the U.S. We started in Raleigh, N.C., traveled through the southern states and toured the West Coast's national parks until we reached San Francisco. What a surreal introduction to the United States!"
When Manon is not traveling, she enjoys Taekwondo, a hobby she took up about three years ago and practices every week. She also loves mountain sports, spending most of her childhood in France and going to the Alps every winter and summer. Living in Virginia provides lots of opportunities for hiking. "And thanks to a recommendation from one of our (DCA) volunteers, I even got to do the only via ferrata — an Italian term meaning "iron gate," which is a secured climbing route in the mountains — on the East Coast last year!"
When asked about any memorable encounters during her time at DCA, she refers to the fact that many volunteers continued to work at the airport throughout the pandemic. "In a time of uncertainty, it is most commendable and something to be very grateful for."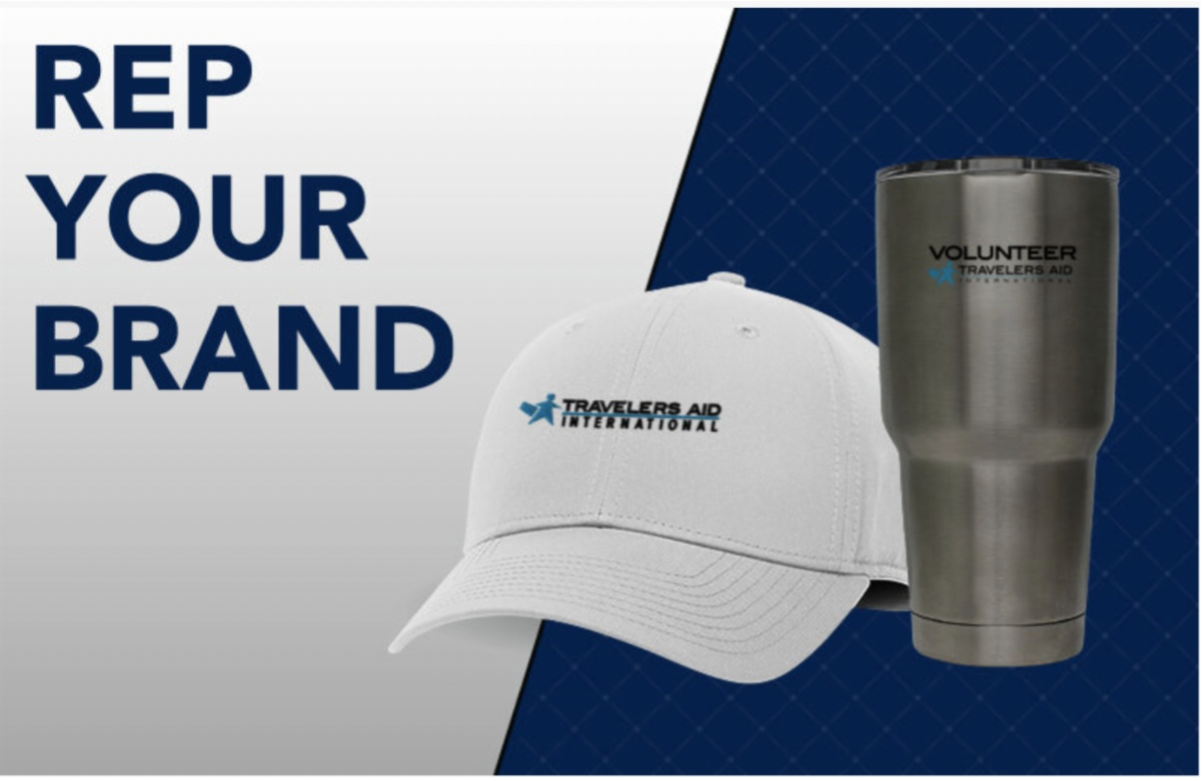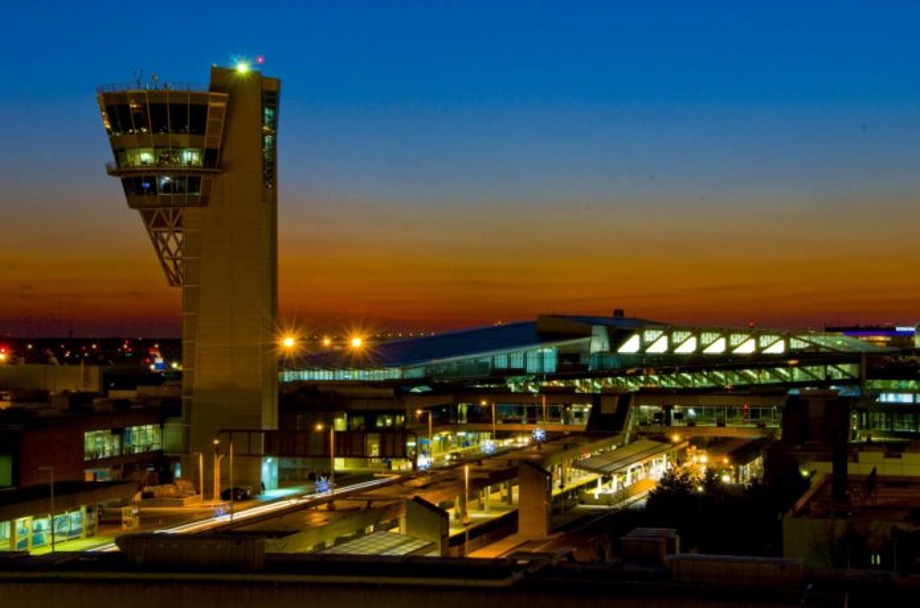 (This is one in a series of posts in the blog "Stuck at the Airport," by Harriett Baskas, highlighting favorite features at airports around the country. Due to health concerns, some features and amenities at PHL may be temporarily unavailable.)
Philadelphia International Airport (PHL), just seven miles from downtown Philadelphia, first opened in 1940. Back then, it was known as
Philadelphia Municipal Airport and transported 40,000 passengers annually traveling on just a handful of carriers. Today, PHL is a major air transportation hub and accommodates more than 31 million passengers a year.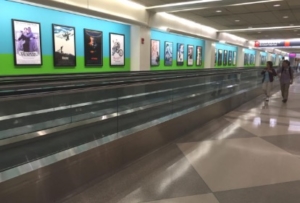 #1 Art and Exhibitions
PHL's award-winning art and exhibitions program is celebrating its 23rd year and you'll find art at just about every turn.
We love the wall filled with posters
of movies made in Philadelphia, such as Rocky (and the sequels), starring Sylvester Stallone; Dressed to Kill, with Michael Caine and Angie Dickinson, Blow Out, with John Travolta; and more.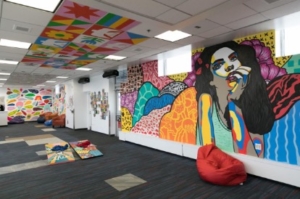 #2 ARTport Lounge
The ARTport Lounge in Terminal F is a colorful place for passengers to relax while waiting for a flight. The area features the artwork of Kyle Confehr, Martha Rich, Alloyius Mcilwaine and Lauren Cat West. There's a popular sticker wall here, as well as cornhole game boards.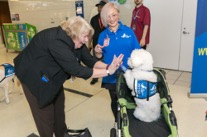 #3 Wagging Tails Brigade
PHL's Wagging Tails Brigade of therapy dogs launched in April 2019. The program includes 12 teams of volunteer dogs and handlers who walk the terminals to interact with passengers and reduce stress.
​Each dog has its own trading card as well.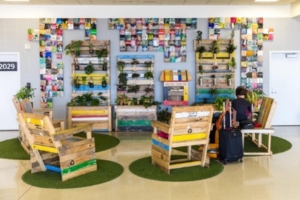 #4 Book Exchange
Everything in PHL's book exchange and seating area in Terminal A is recycled. The book exchange and seats are made of reclaimed wooden pallets, the plants are in recycled aluminum cans and water bottles, and the backdrop tiles are made from broken skateboard decks.
The books are "take one, leave one" and come from passengers and from the airlines, which donate books left onboard airplanes.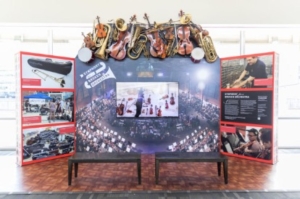 #5 Pop-Up Theater
The pop-up theater in Baggage Claim B showcases media/video by Philadelphia area youth who participate in various nonprofit programs.

We are always on the lookout for interesting news about your organization! ​E-mail ellen@travelersaid.org with any and all items you would like to be considered for the monthly TAI newsletter.